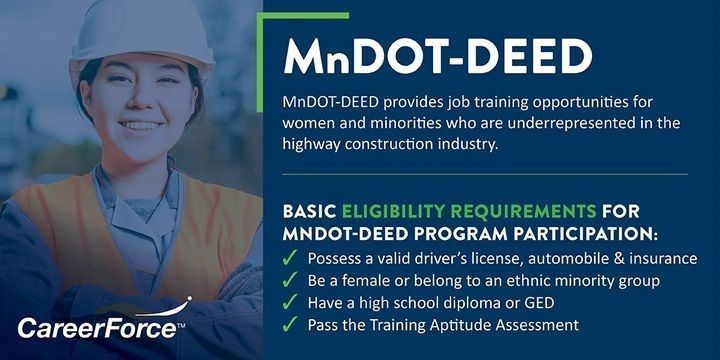 Minnesota CareerForce (formerly known as MN WorkForce) is partnering with both the state's Department of Transportation (MnDOT) and Department of Employment and Economic Development (DEED) to recruit and train women and members of BIPOC communities for a career in the highway construction industry.
Classes begin this spring and training is provided at no cost to enrollees. In addition, you will be provided with tools, boots, and job placement services for good-paying positions including Heavy Equipment Operator and Labor/Cement Mason. Applicants to the MnDOT – DEED Highway Heavy Construction Training and Job Placement (HHCTJP) program must:
Identify as a member of an ethnic minority group and/or woman
Have a high school diploma or GED Certificate
Own a valid Minnesota Driver's License
Possess a working vehicle and automobile insurance
Complete a training aptitude assessment
U.S. Veterans that meet these eligibility guidelines are strongly encouraged to submit an application. For more information and how to apply, please contact Sylvia C. Garcia, State Program Coordinator, at 651-539-4122 or sylvia.garcia@state.mn.us. You can also download the pre-application form, access the program flyer, and connect with an expert to answer any questions you may have by visiting the HHCTJP webpage.