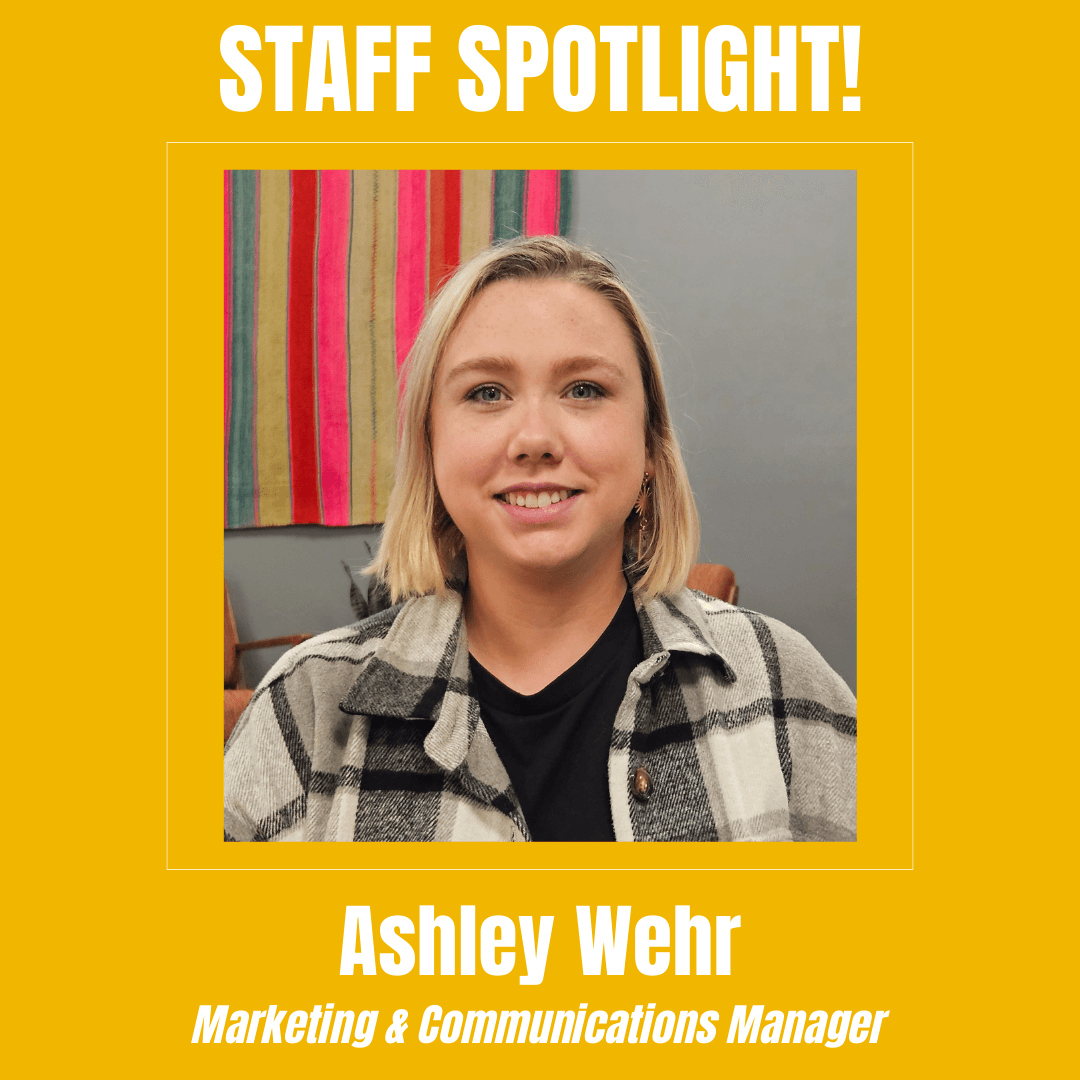 Community Action is happy to announce the recipient of our 2023 November Staff Spotlight, Marketing and Communications Manager, Ashley Wehr. As Marketing and Communications Manager, Ashley does a great job of finding creative ways to tell our story in a compelling manner. Ashley not only creates effective marketing and communication campaigns but also develops effective strategies to reach various CAPRW audiences.
Lindsay Kline, one of her nominators, says "Ashley is always on board to take on projects to help other staff members. She is very responsive and seems to really care about doing a good job. She goes out of her way to be helpful and find people the answers to the questions they have. She is a joy to stop and chat with during the work day and truly cares about her coworkers and CAPRW's mission and participants."
It is clear Ashley is a person who has the ability to empower her team members. Her open communicative style encourages feedback and continuous improvement. We recently asked Ashley a couple of questions to get to know her and how she views her role at Community Action.
What is your favorite part about working at CAPRW?
My favorite part about working at CAPRW is my fellow coworkers truly trying to make a difference in our community. It's fantastic to have a team that is just as passionate about the work that we do as I am. CAPRW is a super fun environment to work in and I appreciate the collaborative space we have!
Do you have a favorite memory from your time working at CAPRW?
I was able to witness the impact of the donation we received from Marsden, a partner of Community Action. With their donation, we were able to work on one of the homes that CAPRW owns and rents out to members of the community. As a result of the donation, this home received an entirely new kitchen! The current tenants are a family of 6 and the appreciation and impact was something heartwarming.

How did you discover your passion for working with the community?
As soon as I went into college, I started volunteering in my community. What started off volunteering for an animal shelter, turned into raising funds for the shelter on campus, and my strive to make a difference was born. I feel it is important to give back to the communities we live in; I have been a resident of St. Paul for 5 years and love the people! It's a pleasure to work somewhere that positively impacts lives.

What do you enjoy doing in your spare time outside of work?
Outside of work I enjoy spending time with my husband, friends, and family. We take our dogs out for adventures in parks and different breweries; I also really enjoy cooking and baking!