Our Statement on Race Equity
At Community Action Partnership of Ramsey & Washington Counties, we honor the inherent value, diversity, and dignity of all human beings. Further, we recognize the unique circumstances and needs of every individual and family for and with whom we are called to serve and vow to treat them with respect, compassion, and consideration. Because these values are foundational to our mission and our work to end poverty, dismantle racism and bias, promote equity and justice, and cultivate a culture among staff and volunteers that fosters collaboration, inclusion, and a sense of belonging, we pledge to hold ourselves accountable at all times.
Racial Disparity & Inequity in the Twin Cities
Although the Twin Cities and greater Minnesota has long ranked at or near the top for many quality of life indicators when compared to other major metro areas and all 50 states, our communities also suffer from some of the widest black-white gaps in the nation when it comes to employment, education, housing, and healthcare. These rampant disparities have only been amplified by the COVID-19 pandemic, that has deeply wounded the social, economic, and general health and wellness of African Americans, our indigenous populations, and other communities of color.
At Community Action, we always encourage people to bring about positive change in their communities through education and engagement. Many organizations have been working on these issues for years. These are just a few  working towards realizing racial equity and eliminating racial disparities in the Twin Cities:
Data on Inequity in the Twin Cities
Community Action has long worked to dispel popularly held misperceptions surrounding the issue of poverty by educating the community about the systemic roots of poverty. To fully grasp how poverty disproportionately affects BIPOC members of our communities, we've put together a list of data that only begins to illustrate the historic and systemic roots of poverty in America and the Twin Cities and how race and ethnicity are inextricably linked to poverty.
Poverty
The Federal Poverty Guideline are an economic measure used by government agencies to determine whether an income level qualifies a family for certain government benefits and programs. Eligibility for many of our programs is determined by this metric. While it by itself is not what determines poverty, it a good starting point using other data to begin a conversation about poverty, and how it is often determined on racial and ethnic lines in the Twin Cities, Minnesota, and throughout the country. 
Poverty comparison between Ramsey and Washington counties: 
Ramsey County has the sixth highest poverty rate among Minnesota's 87 counties at 14.6%. [poverty rate in the city of St. Paul is 19.4%]

By contrast, Washington county has the second lowest poverty rate of Minnesota counties at 4.2%.

Meanwhile, the overall poverty are in the city of St. Paul is 19.4%.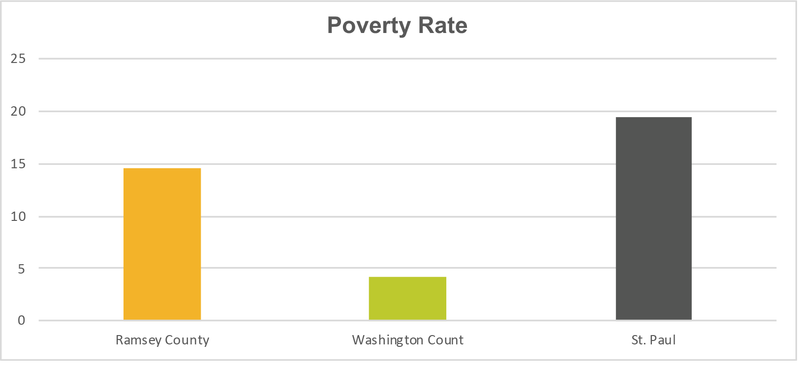 But, when you break the poverty rate down by ethnic group and race, it shows that there are great disparities between which groups of people live in poverty and which groups of people do not:
American Indian: 31.7% 

Black: 25.9% 

Hispanic: 16.3% 

Asian: 13.4% 

White: 5.3%

All groups: 8.9%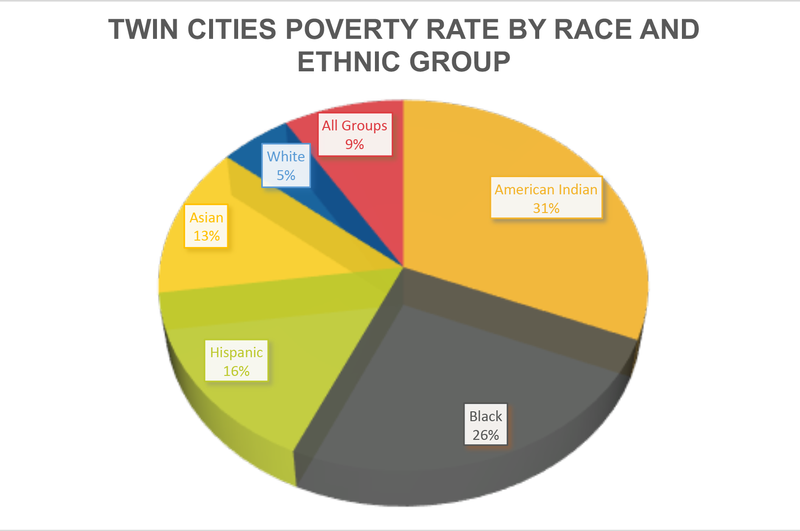 ​​​​Median Income
Median Income is a measurement that divides income distributions in populations of people into two equal parts: where one half of the population of people have income above that number, and the other half of the same population of people have incomes below that number. 
Median Income distribution in Ramsey and Washington counties:
The median annual income in Ramsey County is $62,937, ranking it 23rd out of 87 Minnesota counties.

Washington County's median annual income ranks 3rd in the state at $95,840.
Data for the Median Annual Income in the Twin Cities demonstrates a similar disparity by racial and ethnic group:
White: $82,688

Asian: $78,819

Hispanic: $50,000

American Indian: $41,917

Black: $36,710

All Groups: $75,411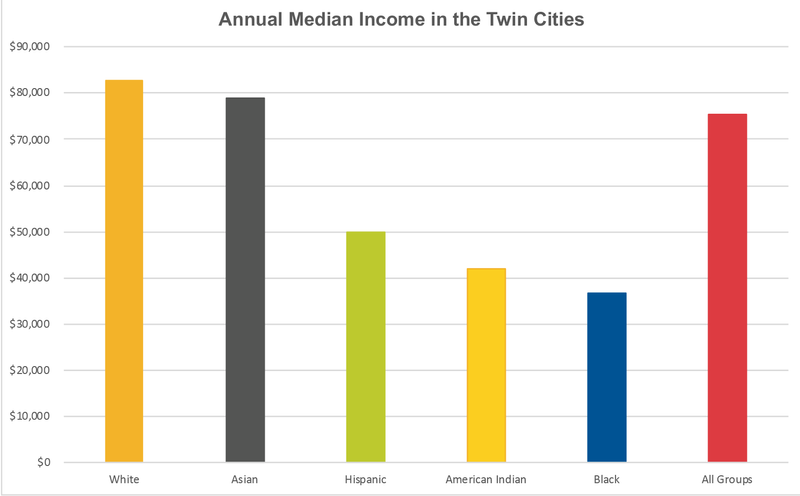 Cost-Burdened Households
When a household spends 30% or more of its gross monthly income on housing, that is considered a "Cost-Burden Household". People living in households who meet or exceed the 30% threshold struggle to make ends meet, which forces people to make tough decisions, like whether they have to sacrifice healthcare coverage to get food on the table. These trade-offs often lead people to experience lower outcomes of well-being for themselves and their children. 
Percentage of Cost-burdened households in the Twin Cities by racial and ethnic group:
Black: 51.5%

American Indian: 43.6%

Hispanic: 42.9%

Asian: 26.0%

White: 24.3%

All groups: 27.7%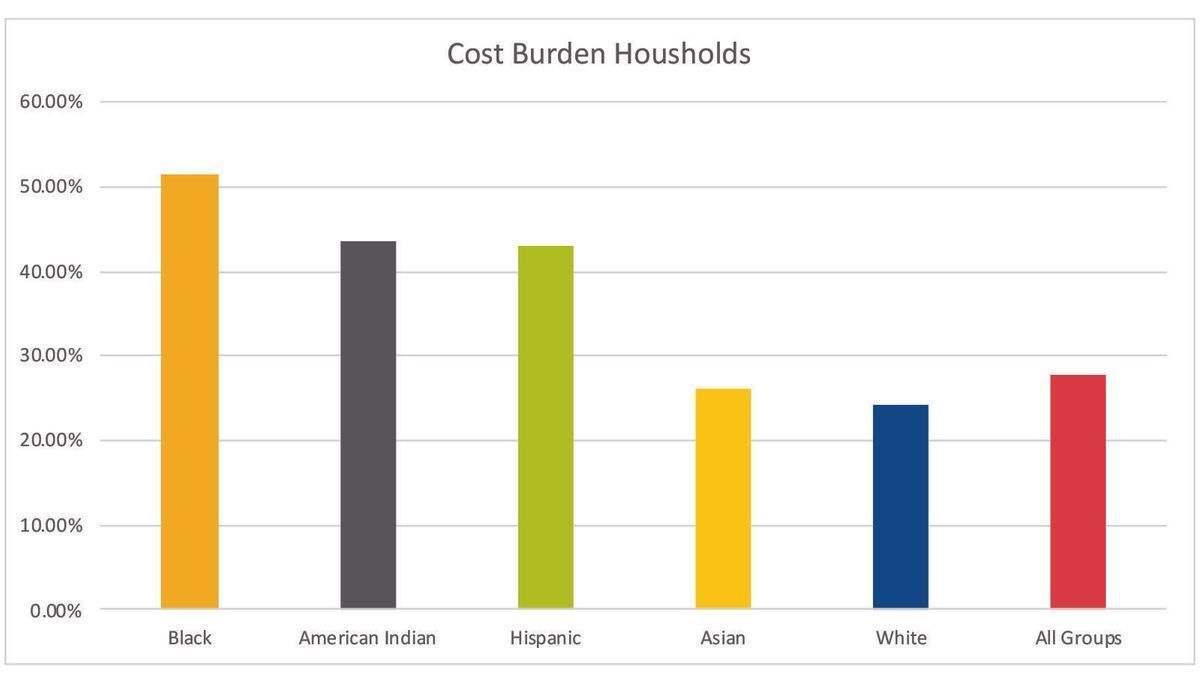 Healthcare
People's lack of healthcare coverage is another contributing factor to disparities in income, wealth, and well-being. There are many ways that living in poverty can contribute to issues related to health for a person, which lead to higher morbidity to mortality rates for for people living in poverty. Access to quality healthcare is critical for the well-being of any person, but it is even more so for a person living in poverty. Therefore, the lack of healthcare coverage for people living in poverty only widens the gap of disparity and inequality where it matters most: a person's health. 
Percentage of Minnesotans under the age of 65 in the Twin Cities without healthcare insurance by racial and ethnic group:
American Indian: no data

Hispanic: 18.8%

Black: 6.0%

Asian: 5.3%

White: 3.1%

All groups: 4.9%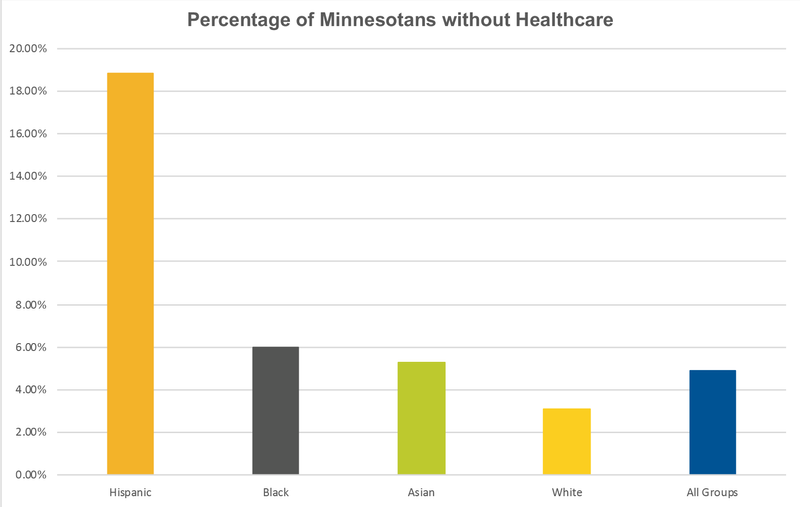 Homeownership Rate
Homeownership is the method by which most Americans increase their wealth. Homeownership is one of the largest contributing factors to the wealth disparity drawn  between people on racial and ethnic lines. Again, homeownership rates in the Twin Cities demonstrates a stark racial inequality as it pertains to wealth. 
Homeownership rate in the Twin Cities by racial and ethnic group:
White: 75.3%

Asian: 58.3%

American Indian: 43.1%

Hispanic: 41.6%

Black: 25.0%

All Groups: 68.3%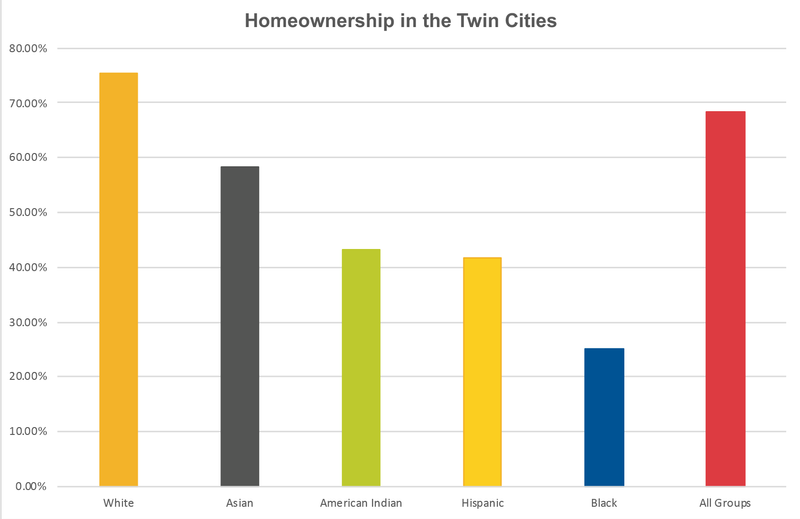 General Demographics
Percentage of people of color in Ramsey and Washington Counties:
Ramsey County: 38.6%  (3rd most diverse of 87 Minnesota Counties)

Washington County: 17.8%  (14th most diverse of 87 Minnesota Counties)
Percentage of people of color in:
St. Paul: 48.6%  (3rd most diverse of 62 7-county metro cities and towns)

Minnesota: 20.4%  (38th most diverse of the 50 states)

United States: 40.4%
Early Childhood
Percentage of public school children who receive early childhood education before age 5
:
Ramsey County
St. Paul: 71.4%  (23rd out of 48 Twin Cities public school districts)

Roseville: 70.9% (25th out of 48 Twin Cities public school districts)

Mounds View Area: 67.0%  (34th out of 48 Twin Cities public school districts)

St. Anthony: 66.7%  (66th out of 48 Twin Cities public school districts)
New Brighton
White Bear Lake: 64.6%  (40th out of 48 Twin Cities public school districts)

North St. Paul/Maplewood/Oakdale: 64.5%  (41st out of 48 Twin Cities public school districts) 

         
Washington County
South Washington: 74.6%  (16th out of 48 Twin Cities public school districts)

Stillwater Area: 72.5%  (19th out of 48 Twin Cities public school districts)

Mahtomedi: 70.2%  (30th out of 48 Twin Cities public school districts)