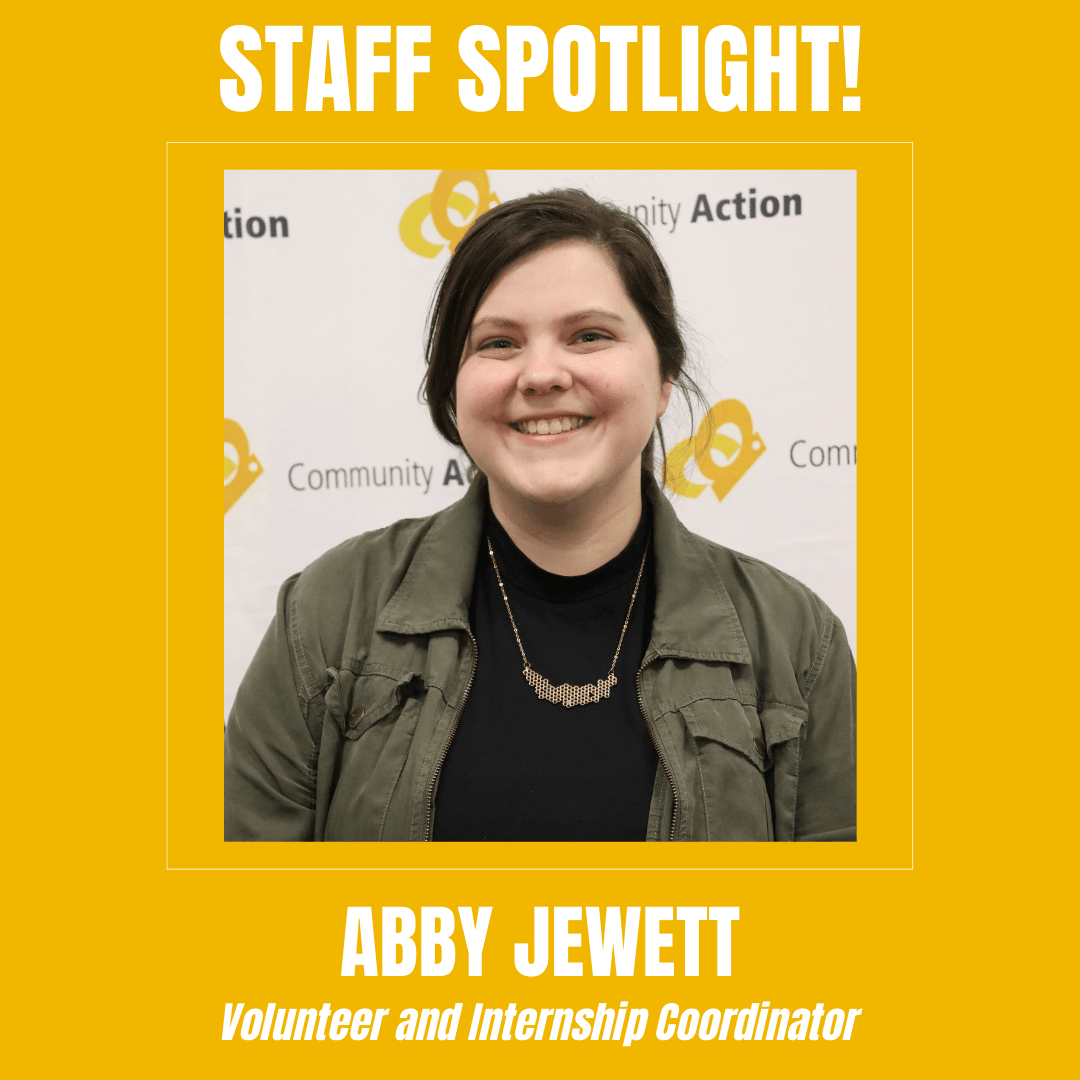 Community Action is happy to announce the recipient of our 2023 September Staff Spotlight, Volunteer and Internship Coordinator, Abby Jewett. As Volunteer and Internship Coordinator, Abby strives to create authentic connections with volunteers and interns. Abby does an excellent job answering all questions regarding volunteering with CAPRW and makes sure every volunteer and/or intern has a smooth onboarding process.
One of her nominators said, "Abby is a true joy to work with. Regardless if she is working solo on a project or working within a group, she welcomes new ideas, feedback and promotes team collaboration. Abby is very committed to our mission, vision and values. She uses "out of the box thinking" to strategize greater ways for our agency to impact the community. She responds to requests quickly and with enthusiasm. She naturally exudes positivity and our agency is stronger for having her."

It is clear that this is a person who is passionate about Community Action's mission, vision, and values. Recently we caught up with Abby to learn more about her and how she views her role at Community Action.
What is your favorite part about working at CAPRW?
My favorite part about working at CAPRW is my unique role to cross our agency and community. I'm privileged to work in a role where I can support incredible changemakers – staff, volunteers, organizations, and community members who make a massive difference at CAPRW and in their community. My favorite part is building these intentional relationships. Being in a support role coordinating our volunteer and internship programming is a gift, and I am honored to support others who make a difference.
Do you have a favorite memory about working with volunteers?
While I've loved all of my interactions with volunteers, one of my recent favorite memories was on a client home visit with Derek, a Home Energy Member with our Energy Conservation Department. I was able to visit Linda's home for a photo opportunity – she's a senior living on a fixed income who Energy Conservation helped last year by replacing her furnace and water heater after her furnace went out last year. It was amazing to see Derek interact with her – by the end of the day, he was educating me, Linda, and the ENTIRE photo-op team on how to properly care for a furnace, what to look for in a house to conserve energy, what different tools Auditors used to measure energy (& what they meant), and more. We also all had a blast with Linda's beautiful German Shepherd, Lulu. This reminded me how much of an impact volunteerism can have on our community, filled with real people in need like Linda, who have lovely German Shepherds and kind hearts – and are affected by circumstances outside of their control.
Being able to witness the impact of our interns, volunteers, and AmeriCorps members is one of my favorite parts of the job!
How did you discover your passion for working with the community?
Funny enough, my passion started with volunteering and becoming an educator. I was in 4-H, where I participated in community service projects, volunteered for our county fair, and engaged our community on – wait for it – rabbit care. (Yup! I showed rabbits for years and even went to the State Fair several times. I have a ridiculous amount of knowledge about pet rabbits that I'll never use in life.)
Then I taught College English with students who faced significant socioeconomic challenges at the Dougherty Family College – working with these students was inspiring. They were changemakers, and I wanted to support that kind of passion. So I entered a sector where I could make a difference by supporting others to create change – through volunteerism!
What do you enjoy doing in your spare time outside of work?
I love spending time with my husband and three kitties. (Yes, we're that couple…) I also love kayaking, reading, and writing young adult fiction.