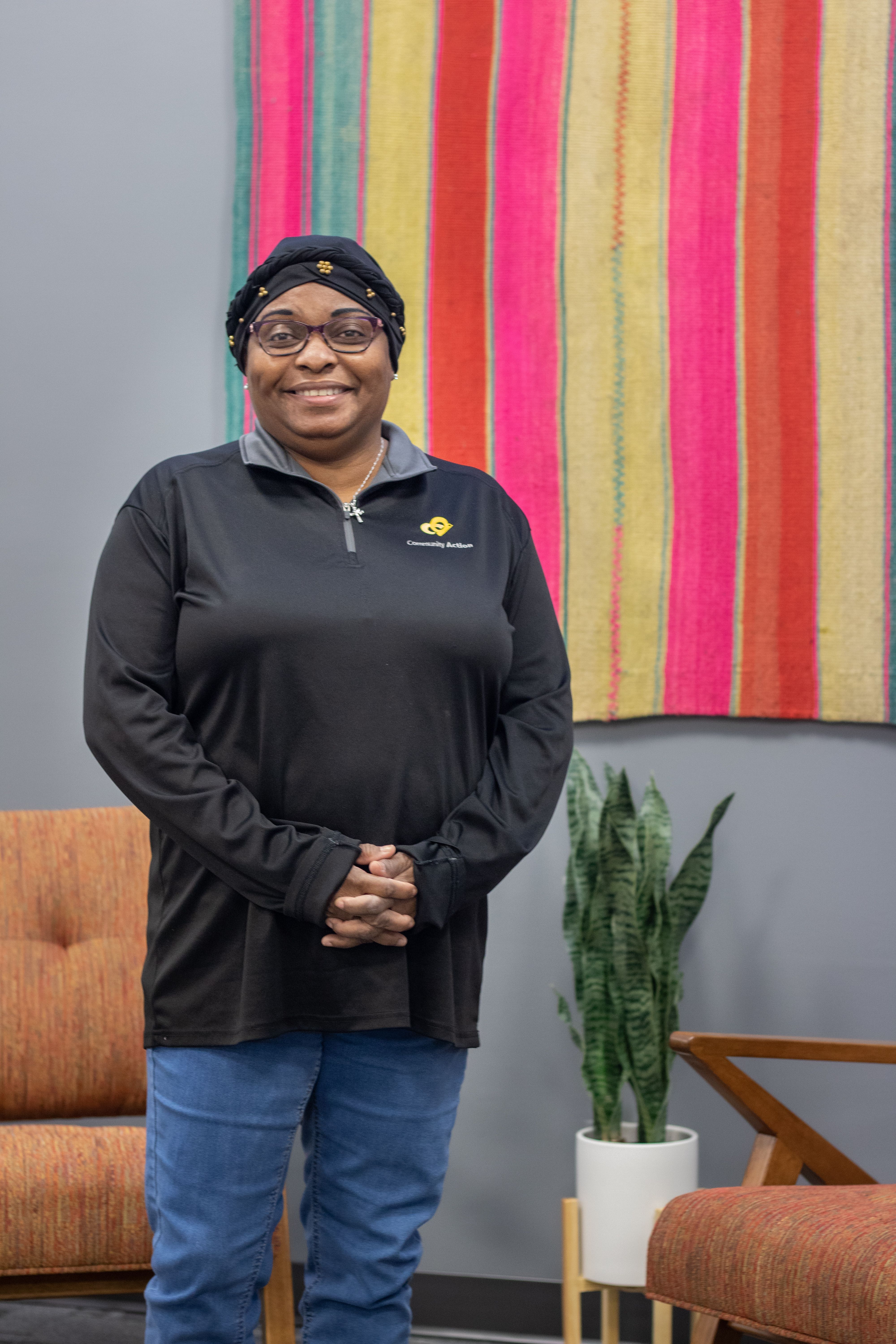 Community Action is happy to announce Tina Johnson as the recipient of our Staff Spotlight. A preschool teacher and family advocate for Community Action Head Start, Tina brings years of experience as a daycare worker and her training and education in Child Development and Family Life Education to her positions. But she also imbues her work with a true love her work, her co-workers, and the people families she serves and advocates for.

Tina had many nominators, including Jennie Thao who spoke of Tina's commitment to families. "[Tina] works closely with families of the Head Start program to bring them out of poverty by being a great resource to them." Jennie went on to say, "She is dedicated to help others around her grow and prosper."

Kristen Yorkson, another nominator, spoke of the positive energy Tina brings to Community Action, "She is true team player! Along with that, she always has a smile and laugh to share with the staff and it's always refreshing to see and talk to her. I am thankful to work alongside of her. Tina, you rock!"

It's clear that Tina is committed to Community Action's mission. As Kim Watts says, "Tina not only works a full day at Mt. Airy working… She also helps opening the center some mornings, supports our classrooms, and helps with the bus and Bus Monitor for other Head Start centers."

We had the opportunity to catch up with Tina and learn more about her day-to-day, where her passion for her job comes from, and also why she rocks!
What is your favorite part about working at CAPRW?
My favorite part about working at CAPRW is my co-workers. We treat one another like family. I believe that your work environment makes a huge difference. We laugh, share similar things in common, and show empathy for one another regarding unexpected family life events. Being our true self and respecting one another's perspectives.

My heart is for the love of children and families and being a Preschool Teacher and Family Advocate is my personal calling in life. Love helping people!

Do you have a favorite memory about working with families?
I had a family who was in a domestic violence situation. I was able to support the family by setting up an appointment with a caseworker over the phone to get into a battered woman shelter with children. Mom was so grateful and still calls me from time to time.

How did you discover your passion for working with children?
I worked at this daycare for 2 years; not thinking about school yet because my children were still young. The Director of this daycare center saw potential in me to be a future Preschool Teacher. So, she gave me this application and gave me an hour to work on it. Handed back to her and submitted to the Greater Minneapolis Daycare Association. The program offers scholarships to new preschool Teachers in the field. The Director called a staff meeting and to my surprise; she mentioned 'Tina' has been accepted into this program. This program provided bus cards, stipend, childcare, pay for college classes and all my books for each class. I told myself this is a great opportunity for a Teaching career. I continued up the ladder to get my AAS degree in Child Development and BA degree in Family life Education. Now, I will be celebrating my 23rd work anniversary this month on Feb 23, 2023.

What do you enjoy doing in your spare time outside of work?
I enjoy reading romance books, exercising, bowling, word finder books, community/family events, spending time with family, and friends.