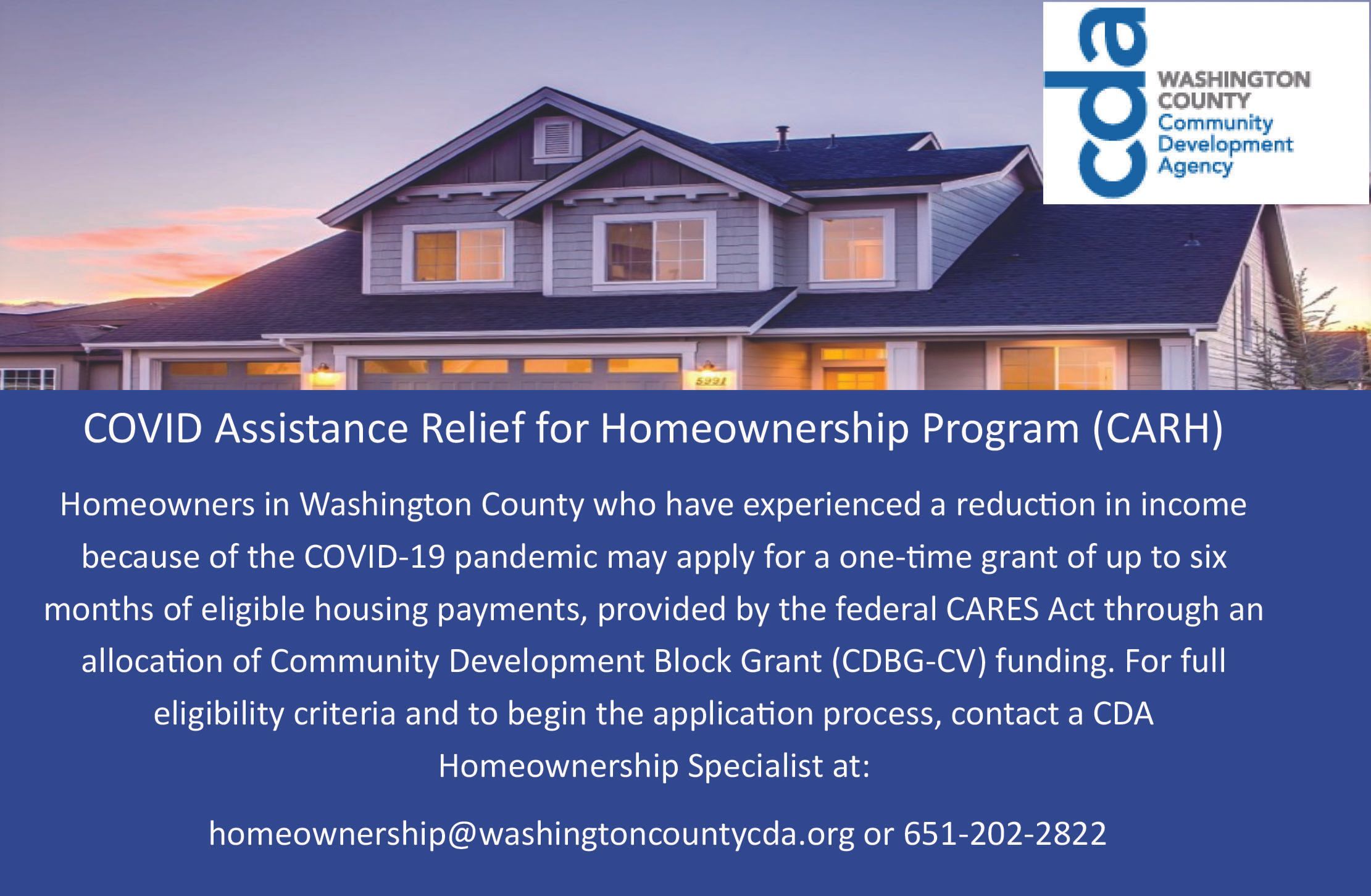 The Washington County Community Development Agency (CDA) is reminding homeowners who have experienced a loss in income due to the coronavirus pandemic that financial support is available. The COVID-19 Assistance Relief for Homeownership Program (CARH), is funded through the Community Development Block Grant as part of the federal CARES Act. 
Qualifying homeowners in Washington County can apply for a one-time grant to help cover up to six-months of eligible housing payments, which include home mortgage loans, homeowners' insurance payments, and homeowners' association dues. To qualify for CARH funds:
Property must be located in Washington County and be the primary residence of household (homesteaded) 
Delinquency or financial hardship must be due to a documented COVID-19-related financial impact on the household 
Gross annual household income must be at 80% or below the Area Median Income (AMI)
Due to funding requirements, properties located in Marine on St. Croix and manufactured homes are not eligible for assistance 
A chart highlighting current AMI guidelines, as well as other important information regarding the program, can be viewed by accessing the CARH program flyer at washingtoncountycda.org. To apply for support through the CARH, contact a Washington County CDA Homeowner Specialist by telephone at 651-202-2822 or via email at homeownership@washingtoncountycda.org. 
Note
Washington County will also have additional emergency dollars to support county residents in 2021. For the latest information, including the types of assistance and when these new funds become available, visit the Ramsey & Washington Counties COVID-19 Relief Assistance webpage, call 651-430-6570, or email csra@washingtoncounty.mn.us.