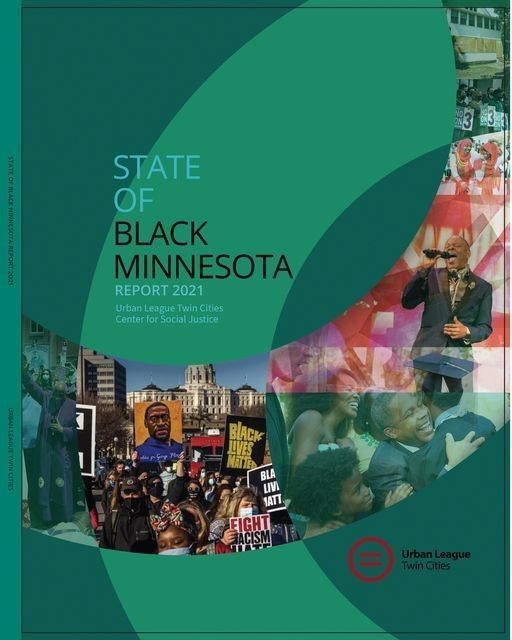 Recently, the Urban League Twin Cities (ULTC) released The State of Black Minnesota 2021, a 37-page report that includes expert insight and analysis from scholars, activists, artists, and faith leaders, relative to seven key metrics of Black life in the North Star State. These quality of life measures include: health and wellness, criminal justice, generational wealth, educational disparities, Black business, arts and culture, and Black faith.
In the foreword to this year's report, ULTC President and CEO, Steven L. Belton, writes that the objective is to:
…illustrate and elevate the obstacles and inequities affecting the nearly 400,000 African descendants who call Minnesota home, and illuminate their intrinsic assets, capacity and resilience. Our expectation is to catalyze policy, programs and investment to advance equity, justice and power for Black people.
Among the many findings in The State of Black Minnesota 2021, are the facts that:
The average life expectancy of Black residents in our state is seven years less than that white Minnesotans.
Black infants in Minnesota are more than twice as likely as white infants to die before their first birthday.
Black residents in the Minneapolis – St. Paul metro are incarcerated at a rate 11 times that of white Twin Citians.
Seventy-six percent of white families in Minnesota own their own home as compared to only 25% of Black families, still one of the largest homeownership gaps in the U.S.
Black public school students in Minnesota report that they are significantly less likely to feel cared for by teachers, administrators, and other school adults than their white counterparts.
The average annual sales of Black businesses in Minnesota are less than $100,000 as compared to sales of more than $500,000 for the average white business in our state.
For more information and to access the complete report, please visit the Urban League Twin Cities online. You can also learn more about the ULTC's newly launched Center for Social Justice Research, Policy and Advocacy, which was established to "promote access to justice and rule of law, advance equity and build capacity within the African American community through civic engagement, community organizing and public policy research and advocacy."