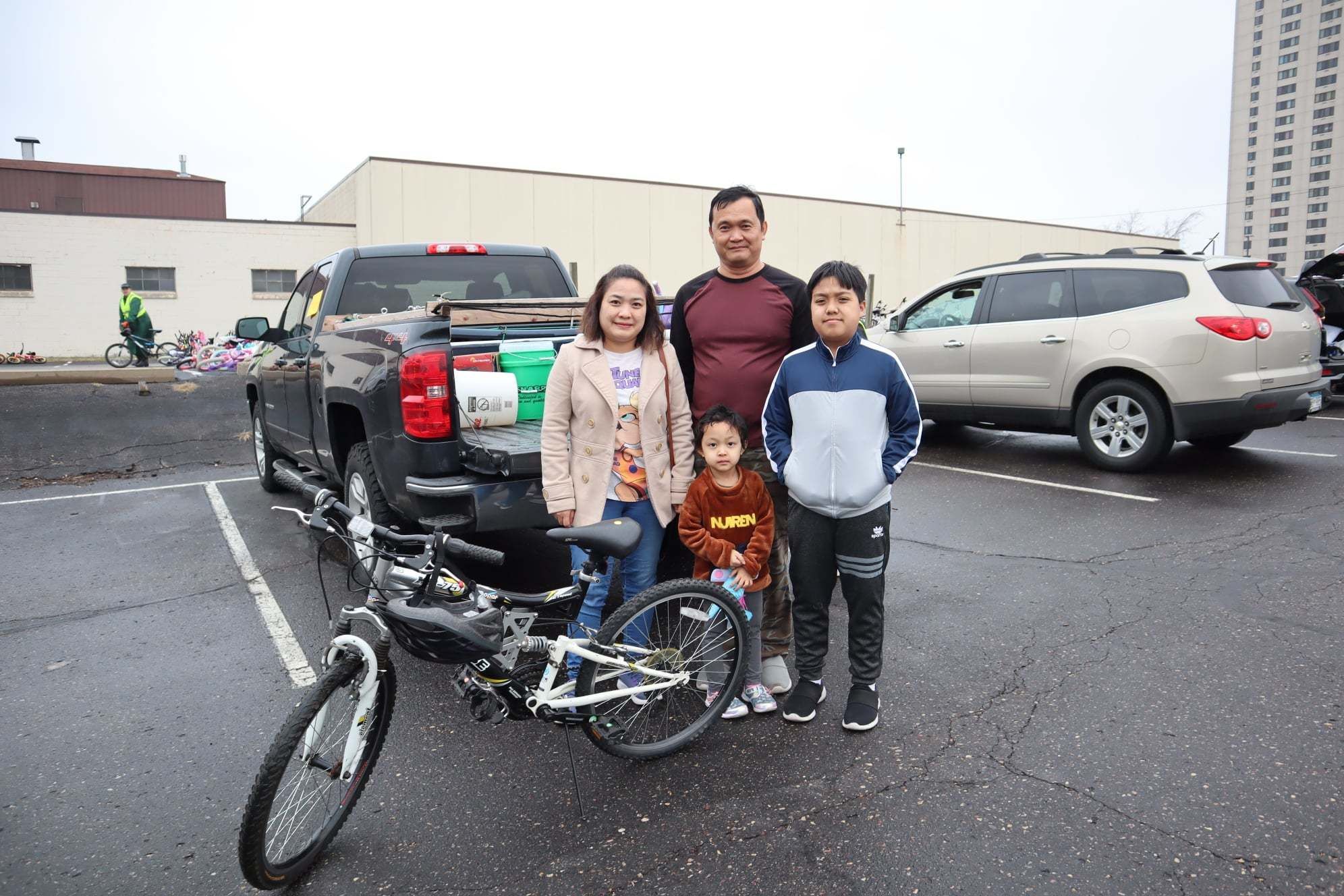 It's National Teacher Appreciation Week! May also happens to be National Community Action Month and National Bike Month. And, the convergence of these three celebrations presents the perfect occasion to highlight one of our longstanding community collaborations.
For 10 years, Community Action Head Start has partnered with Free Bikes 4 Kids MN (FB4K) to distribute refurbished bicycles to Head Start children and their siblings. Prior to the pandemic, bikes were either delivered directly to homes or Head Start families could register to pick up their bike(s) at a local warehouse. However, these past couple years, Community Action Head Start has made this important endeavor into a much larger community event, hosting families at the Community Action Resource Center in St. Paul.
This past Saturday – in spite of the rain and chilly weather – Head Start teachers, staff and volunteers gathered with representatives from FB4K in the Community Action parking lot to give away a total of 494 bicycles. Moreover, for each bike donated to a Head Start kid, Allina Health provided a free bike helmet. Plus, this annual event shared even more in 2022. All Head Start families received home first aid kits and had the chance to learn about other Community Action programs and services, while the Shoe Away Hunger's "Shoe Bus" offered affordable, high quality shoes to both kids and adults. And finally, a food truck owned by one of our Head Start family's was onsite to feed everyone that came by.
"We are very fortunate to work with Free Bikes 4 Kidz MN," notes Molly Hey, Early Head Start Supervisor,  who adds, "This partnership brings our staff and families closer together with a single mission in mind – let's get as many kids on bikes as possible. It has become one of the highlights of the Head Start School Year."
To learn more about Free Bikes 4 Kidz MN, read below and/or go to their website at https://fb4kmn.org/. And, for more information about Community Action Head Start and Early Head Start, including eligibility, enrollment, and other questions, please visit us online at https://caprw.org/services/head-start/.
About Free Bikes 4 Kidz MN
Free Bikes 4 Kidz MN (FB4K) is a non-profit organization geared toward helping all kids ride into a happier, healthier childhood by providing bikes to those most in need. Established in 2008 by a passionate group of cyclists that "love giving as much as riding," FB4K gave away 300 bikes in its first year. Yet, by the end of 2021, more than 84,000 bicycles had rolled through FB4K's Minnesota warehouse and onto new homes. In fact, FB4K gives away more refurbished bikes than anyone in the world. It is the goal of FB4K to make sure "every child feel the joys and freedom of riding a bike."