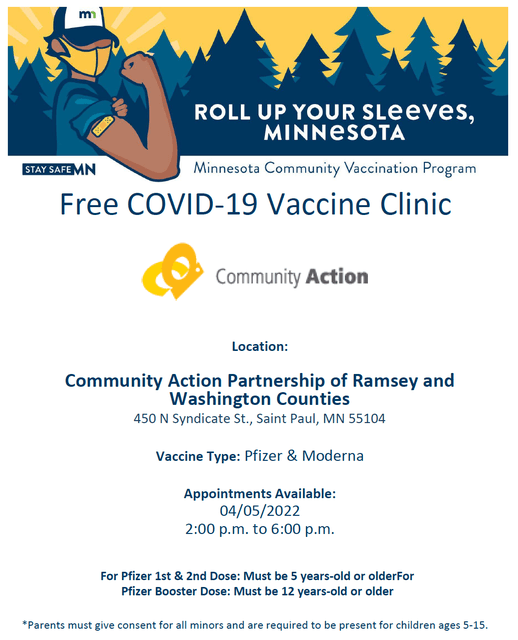 REMINDER
Tomorrow, April 5, 2022, Community Action Partnership of Ramsey & Washington Counties is hosting a one-day, COVID-19 Vaccine Clinic. During this clinic, which is free of charge to all participants, you can get any shot in your vaccine series, including booster shots for both the Moderna and Pfizer vaccines. Participants will also be able to enjoy refreshments and can enter their name into a drawing to win a $50 gift card.
Community Action's COVID-19 Clinic will take place in St. Paul at the Community Action Resource Center (at 450 Syndicate Street North, Suite 20) from 2:00 p.m. to 6:00 p.m. Walk-ins are welcome, however appointments are encouraged. To make an appointment, please visit us online and sign up for a time. Time slots are being offered every quarter-hour from two to six.
No insurance information is required. You will only need to provide your first and last name, date of birth, home address, email address, and telephone number. You can make appointments for others in your household at the same time. This appointment form also allows registrants to request an interpreter if necessary. Those receiving their first or second dose of the Pfizer vaccine must be five years-of-age or older, while those receiving their Pfizer booster must be at least 12 years old. Parents must also provide consent for all minors receiving a vaccine and must be present for children between the ages of 5 and 15 who are getting a shot.