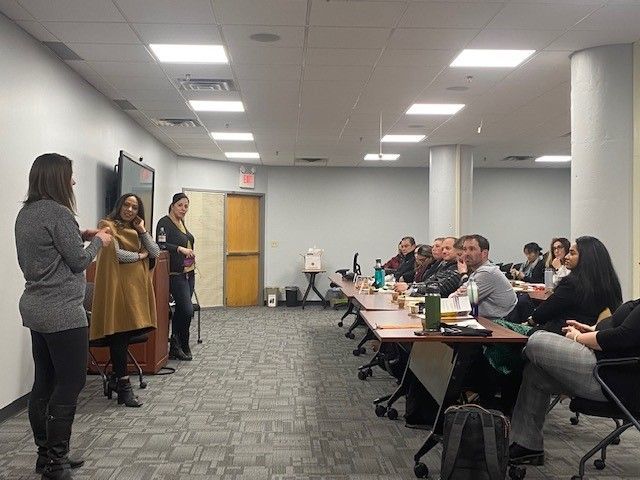 This past Friday, March 4, Community Action Partnership of Ramsey & Washington Counties hosted 24 fellows from the California Agricultural Leadership Program (CALP). An advanced leadership development initiative for "emerging or mid-career" leaders in the agricultural industry, CALP's vision is to "strengthen California agriculture and sustainably supply the world."
As part of their 17-month training, CALP fellows take part in both national and international travel seminars, and the current class's national trip included a multi-day stop in the Twin Cities. Here in St. Paul, they were able to take part in interactive presentations by Community Action's Director of Community Initiatives & Mission Advancement, Gina Iliev; our Senior Director of Head Start & Early Head Start, Nicolee Mensing; and Director of Financial Opportunity Programs, Pamela Maldonado. In addition to learning about the history and mission of Community Action, CALP fellows were able to ask questions and engage senior staff in a discussion of agency programs, funding sources, management philosophy, public and private partnerships, diversity and inclusion strategies, and responding to community needs.
Exercises such as these are critical to CALP's fellows and their focus on leadership theory, cultivating critical and strategic thinking skills, fostering effective communication, managing change and complex social and cultural issues, nurturing emotional intelligence, and developing other skills and attributes designed to "contribute to improved performance" as leaders.
It was an honor and a privilege to host the fellows from CALP and we wish them the best in their future endeavors as leaders in the agricultural industry and their work in government, business, education, the nonprofit sector, and the larger communities that they serve.