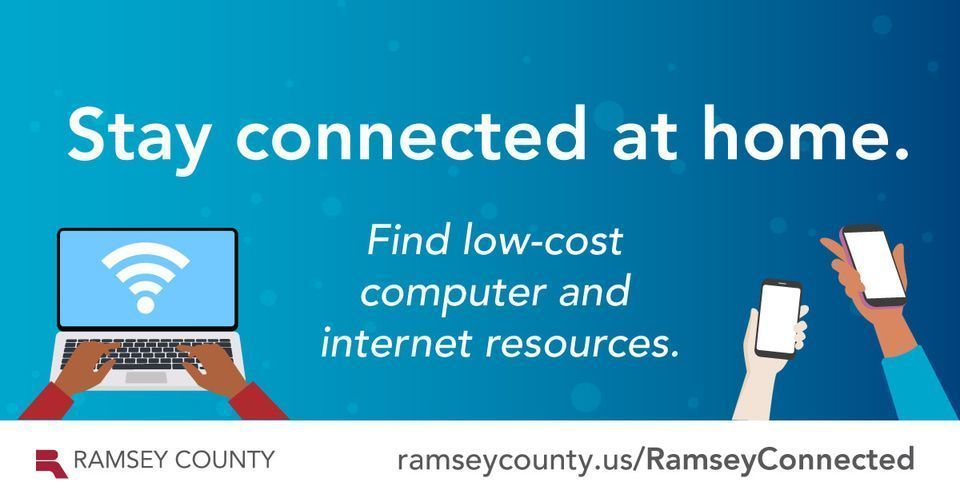 America's continuing digital divide means that far too many households, in both urban and rural areas, lack access to affordable computers and internet services. To address these inequities locally, Ramsey County has launched Ramsey Connected, a comprehensive resource that links residents and community-based organizations to low-cost computer technology, internet services, and even cellular telephone services. Options include:
PCs for People
Tech Dump
Comcast Internet Essentials, and
The Federal Communication Commission's (FCC) Lifeline Program
Ramsey Connected also provides a link to the FCC's Affordable Connectivity Program (ACP), formerly known as Emergency Broadband Benefit Program. The ACP offers monthly discounts to eligible households toward broadband services as well as a one-time discount toward the purchase of a tablet, laptop or desktop computer. There have been recent changes to the ACP, so for those already enrolled or those seeking to enroll, please visit https://www.fcc.gov/broadbandbenefit for the latest guidelines and benefits.
Ramsey Connected also lists resources that assist residents in improving their computer and job skills, offers in-person and virtual employment services through the Ramsey County Community Career Lab, and free community-based trainings to help those seeking to start a career in Information Technology. To access all the tools and resources that Ramsey Connected has to offer, visit them online today at https://www.ramseycounty.us/RamseyConnected.
About Ramsey Connected
Ramsey County believes internet access is a basic need and low-cost internet should be available to all residents. While Ramsey County is not an internet service provider, we serve as a promoter, connector and partner through our Ramsey Connected program. In these roles, we share information from other government, for-profit and nonprofit organizations to Ramsey County residents and community organizations. We also make connections between residents, community organizations, federal and state government and for-profit technology organizations, and serve as a partner to share our knowledge of community needs, bring impacted communities to the table, and share and develop ideas and strategies.