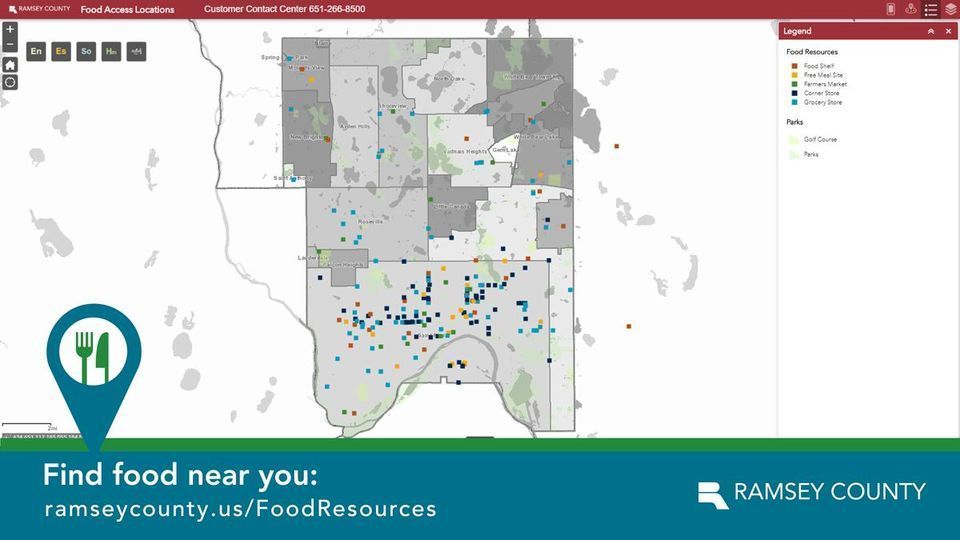 Ramsey County has launched an interactive, online Food Resources Map that provides detailed information and access to area food shelves, food assistance programs, free meals for kids, home meal delivery, farmers markets and produce giveaways, mobile food markets, food co-ops, pop-up events, urban agricultural and community gardening initiatives, and other community resources.
Moreover, this comprehensive list of nutritional resources includes programs and services that are designed specifically for children 0 to 17, senior citizens, those with transportation or mobility issues, and to help increase monthly food budgets for all households. To access the food map, please visit https://www.ramseycounty.us/residents/assistance-support/assistance/food-resources. And, when you find program near you, please use the contact information provided to confirm hours of operation as times and locations are subject to change. This site also contains Food and Basic Needs Resource Guides in multiple languages including Hmong, Karen, Oromo, Somali, and Spanish.
For eligibility questions and help applying to the Supplemental Nutrition Assistance Program (SNAP), residents of both Ramsey and Washington can contact Community Action's Food Support Program by calling (651) 603-5883, sending an email to foodsupport@caprw.org, or visiting us online at https://caprw.org/services/energy-food-housing/food-support.html.
Minnesotans in other counties can reach out to the Minnesota Food Help Line at (888) 711-1151 to connect to  programs that include: SNAP; the Supplemental Nutrition for Women, Infants and Children (WIC); Child and Adult Care Food Programs (CACFP); Commodity Supplemental Food Program (CSFP); and the Minnesota Food Assistance Program (MFAP), among others. Interpreters are available. Likewise, all Minnesota residents in need of emergency assistance can visit the Minnesota Department of Human Services Emergency Food Support webpage at https://mn.gov/dhs/food-emergency/, which provides access to direct support in all Minnesota counties and tribal nations.