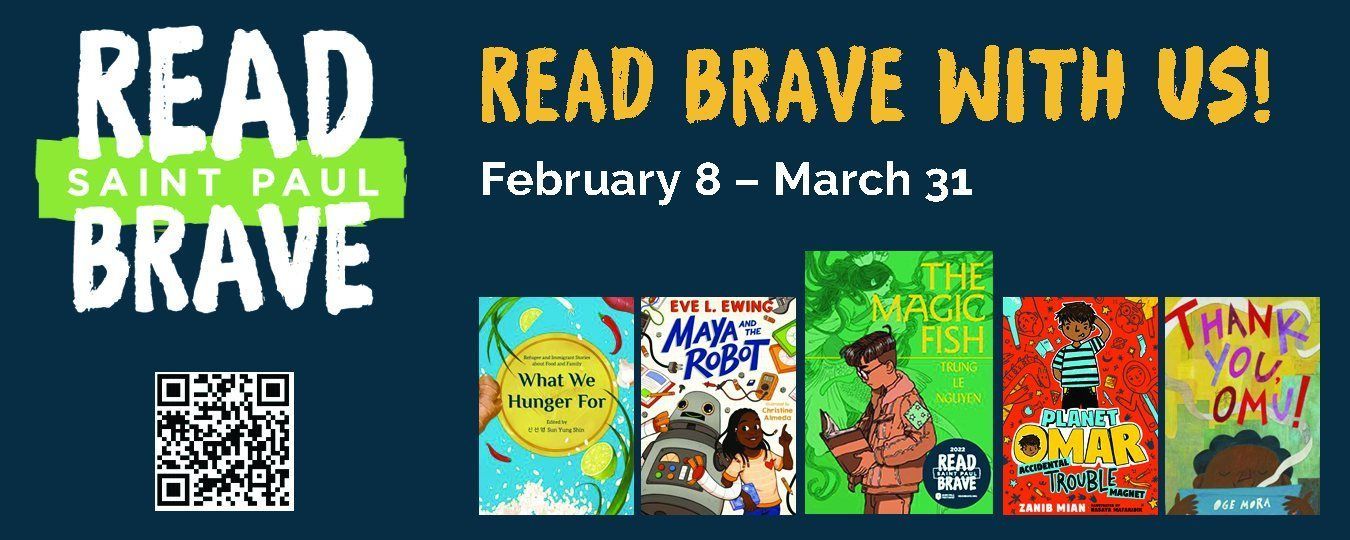 Earlier this month, the Saint Paul Public Library launched Read Brave, a "citywide, intergenerational reading initiative that centers the power of books to ignite empathy and help us think of big ideas" to unify and move the city forward. This year's theme is "community care," and although Read Brave kicked off February 8, it runs through March 31, 2022, and there is still plenty of time for kids and their families to get involved in this important community effort.
The books that are part of this year's Read Brave initiative are:
The Magic Fish, by Trung Le Nguyen
What We Hunger For, edited by Sun Yung Shin
Maya and the Robot, by Eve L. Ewing
Planet Omar, by Zanib Mian
Thank You, Omu! By Oge Mora
The selection of these five books is designed to "connect readers of all ages to one another," and, in emphasizing the aforementioned theme of "community care," demonstrate how we are all connected and must care for one another to ensure our "collective well-being." All five books can either be physically checked out of the Saint Paul Public Libraries or downloaded as an E-book and/or E-audiobook.
As part of Read Brave, the Saint Paul Public Library will also present a series of conversations, events, and programs centered around these books and the theme of community care. This includes virtual events as well as those hosted at locations that include the Rondo Community Library, Rice Street Library, Highland Park Library, Hamline-Midway Library, and Arlington Hills Library, among others. And, starting March 1, both the Rondo Community and Sun Ray branches  will host an interactive exhibit by What We Hunger For contributor and St. Paul-based author and artist Anh-Hoa Nguyen. This exhibit titled, "Recipes for Care," allow participants to share their own recipes for food, self-care and community care. Submissions can also be made virtually.
For more information on Read Brave, including how to participate and secure your books, register for events, download the Read Brave Toolkit, and other resources, please visit the Saint Paul Public Library's dedicated webpage.