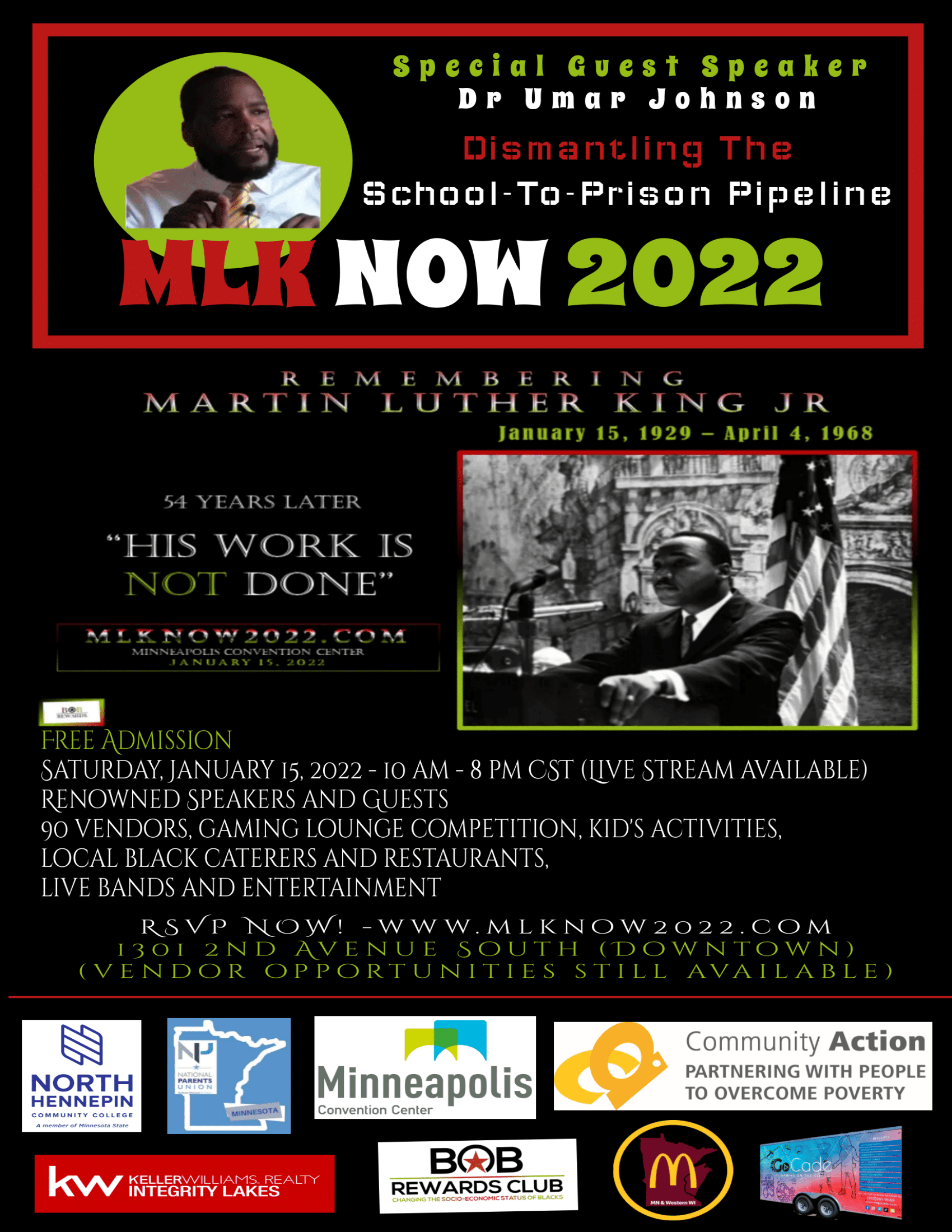 On Saturday, January 15, MLK NOW 2022 will take place at the Minneapolis Convention Center (1301 Second Avenue South) from 10:00 am to 8:00 pm. MLK NOW 2022, honoring Dr. King on what would have been his 93rd birthday, is also a call to remind us that "his work is not done." This free community event, hosted by BOB Rewards Club, will include guest speakers and panel discussions, a career fair, live music and entertainment, activities for kids, a soul food buffet and Celebrity Black Chef Expo, 100 local vendors (including many Black-owned businesses), and much more.
Speakers and panelists for MLK NOW 2022 include: U.S. Congresswoman Ilhan Omar; Minnesota Attorney General Keith Ellison; KMSP-TV News Anchor Dawn Stevens; St. Paul Mayor Melvin Carter, III; University of Minnesota sociologist and Director of African American Studies, Dr. Rose Brewer; and President of the FDMG Academy, Dr. Umar Johnson. For a complete schedule of panel topics and bios for each speaker, which include a multitude of renowned scholars, activists, educators, entrepreneurs, and business and community leaders, please visit MLK NOW 2022 online. 
The MLK NOW 2022 website also includes a complete list of vendors, entertainers, and other important information, including a link to RSVP for this free event. Seating for MLK NOW 2022 is on a first come, first served basis. The organizers of this event encourage everyone who attends to pre-register, which will allow you to bypass any lines and gain entrance into the main auditorium upon your arrival (regardless of how long you stay or the number of event panels/segments you attend). Those who pre-register will also receive either a souvenir wristband or souvenir lanyard as a gift.
MLK NOW 2022 is sponsored by North Hennepin Community College, the Minneapolis Chapter of the NAACP, National Parents Union of Minnesota, Community Action Partnership of Ramsey & Washington Counties, Keller Williams Realty Integrity Lakes, McDonald's Restaurants of Minnesota and Western Wisconsin, GoCade Gaming on the Go, and the Minneapolis Convention Center. For more information, please visit the MLK NOW 2022 website or call 612-400-9500.