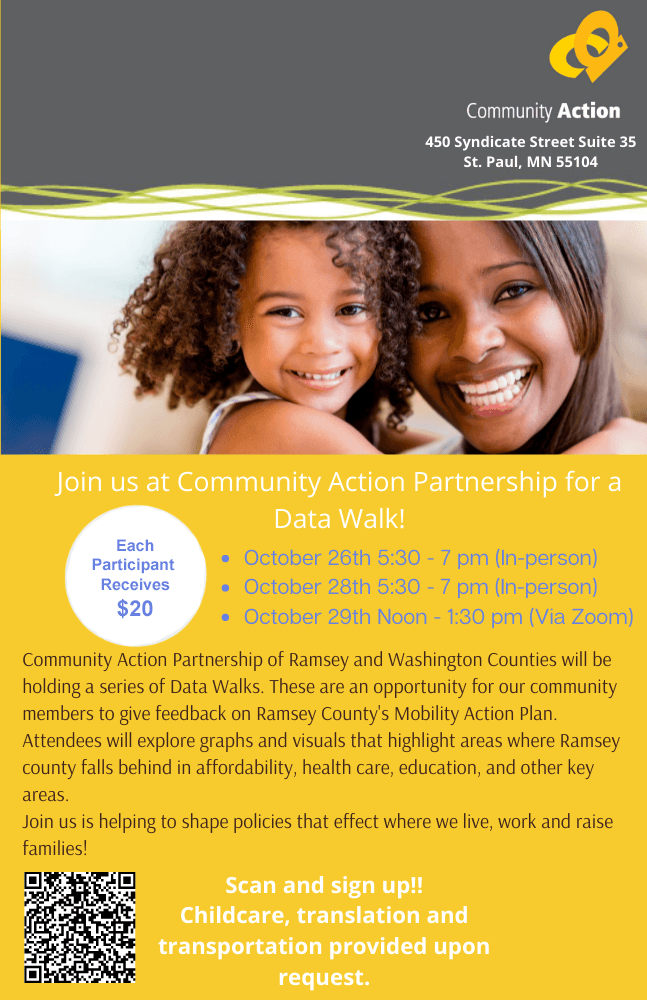 REMINDER
Tomorrow, October 26, 2021, Community Action Partnership of Ramsey & Washington Counties will host the first of three Data Walks this week designed to engage residents around recent research findings in their communities. In addition to sharing these findings, the objectives of the Data Walks are to:
Ensure a more robust analysis and understanding of the research 
Inform better programming and public policy to address both the strengths and the needs of a particular community or population 
Inspire individual and collective action among residents and other community agents
Data Walk participants will investigate charts, graphs, and other interactive visual tools that demonstrate where Ramsey County stands in addressing critical community issues such as employment, education, housing, healthcare, and transportation. Moreover, all of those 
participating in one of our Data Walks will receive a $20 incentive payment. The first two Data Walks will take place this Tuesday (October 26) and Thursday (October 28) in the Wellstone Room of the Community Action Resource Center (450 Syndicate Street N, St. Paul). The final Data Walk will be held virtually via Zoom on Friday, October 29, from 12:00 pm to 1:30 pm.
To sign up for any of these one of these three events, please click here or use the camera on your smart phone to scan the QR code on the Data Walk accompanying this blog. Participation instructions will be sent to you via email once your registration has been submitted. Childcare, transportation, and translation services for the first two Data Walks held at the Community Action Resource Center are available at no cost upon request. Please sign up today to help shape the policies and programs that impact where we live, work, and raise our families.