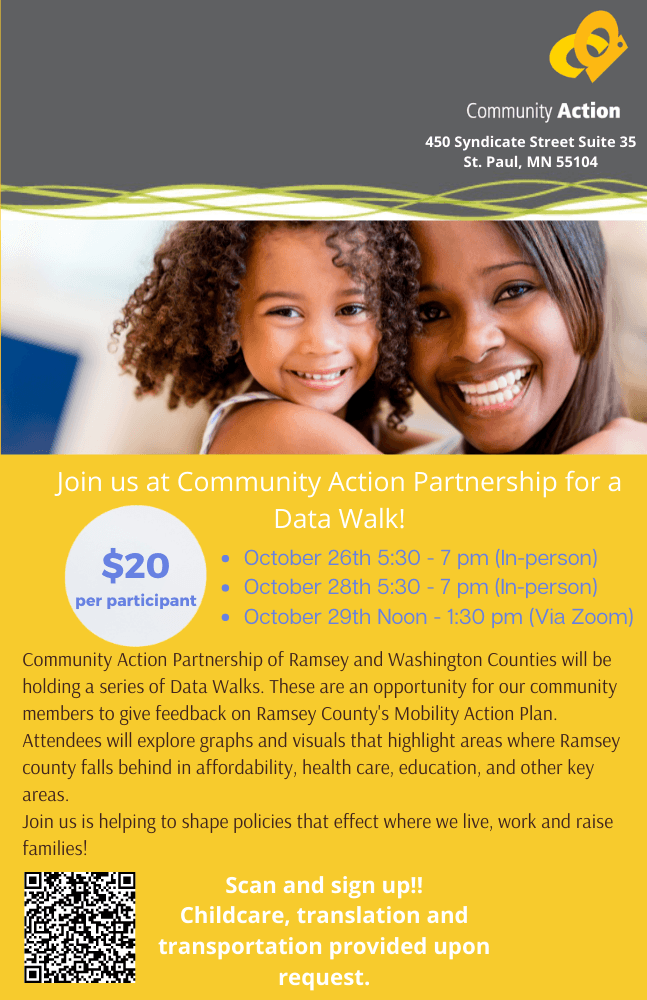 Next week, Community Action will host a series of "Data Walks." The Urban Institute explains that a Data Walk is "an interactive way for community stakeholders, including residents, researchers, program administrators, local government officials, and service providers, to engage in dialogue around research findings about their community." Community Action's upcoming walks are specifically designed for local residents to provide feedback on, and help to inform, Ramsey County's Upward Mobility Action Plan. The objectives of our Data Walks are to: 
Share key data and findings with community residents and program participants 
Ensure a more robust analysis and understanding of the data 
Inform better programming and policies to address both the strengths and the needs of a particular community or population 
Inspire individual and collective action among community agents
Participants will have the opportunity to explore charts, graphs, and other visual displays that highlight how Ramsey County measures up in affordable housing, healthcare, education, and other critical areas. All those taking part in one of our Data Walks next week will receive a $20 incentive payment. The first two Data Walks (October 26 and 28) will be held in the Paul and Sheila Wellstone Room at Community Action's St. Paul headquarters (450 Syndicate Street North). The third and final Data Walk (October 29) will be presented via Zoom. 
Tuesday, October 26, 2021, from 5:30 pm – 7:00 pm
Thursday, October 28, 2021, from 5:30 pm – 7:00 pm
Friday, October 29, 2021, 12:00 pm – 1:30 pm (Zoom Meeting)
Childcare, transportation, and translation services are available to participants free of charge upon request. Please sign up today to help us shape the policies that effect where we live, work and raise our families. To register for a Community Action Data Walk, click here or use your smart phone camera to scan the QR Code on the flyer that accompanies this blog. Participation instructions will be sent via email once your registration is submitted.