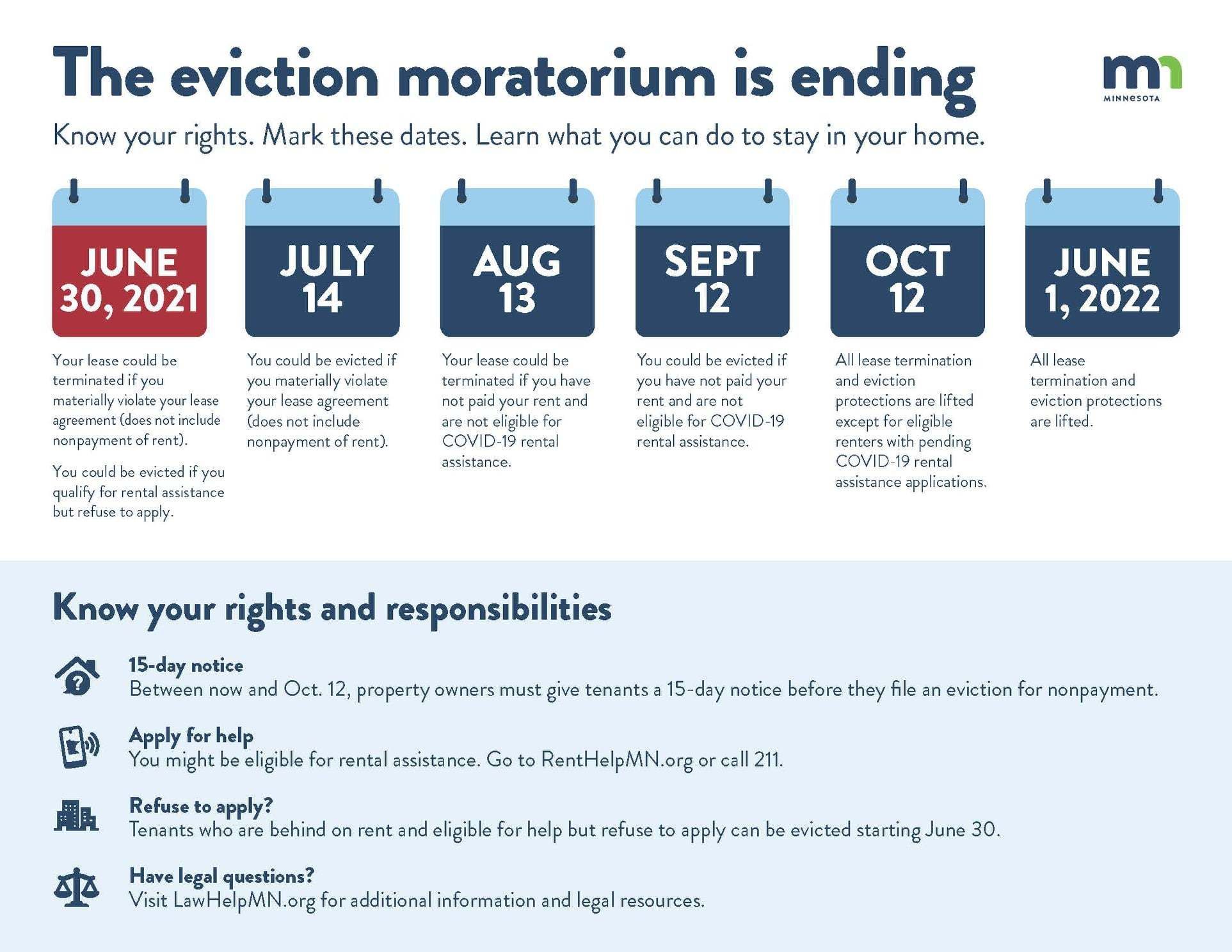 We are now only four days away from the phasing out of Minnesota's COVID-19 eviction moratorium. Lease terminations and eviction protections will be officially lifted on Tuesday, October 12, 2021. However, renter households that are eligible for pandemic-related rental assistance still have until that day to submit an application at https://www.renthelpmn.org/ or call 211 for application assistance. Residents of St. Paul or Ramsey County can apply for assistance directly through the St. Paul—Ramsey County Rent Assistance Program by calling (651) 999-5737, sending an email to renthelp@caprw.org, or online at https://submit.caprw.org/forms/cera.
By simply having a pending application, eligible renters will be protected from eviction until June 1, 2022. And, those Minnesota households behind on rent and utilities can request assistance dating all the way back to March 13, 2020, the day that the Governor declared a peacetime emergency related to the COVID-19 pandemic.
Eligible renters can also request assistance with upcoming rent and utility bills. To date the program has received more than 40,000 applications totaling over $226 million in requested aid. There are plenty of assistance dollars still available, but time is of the essence. For eligible renters that have still not submitted an application, please do so immediately to ensure that you are protected from eviction and able to stay safe and warm in your home as winter approaches. The chart that accompanies this blog also outlines your rights and responsibilities as a renter and how to request free legal assistance at https://www.lawhelpmn.org/. And, for questions or any additional information, please be sure to visit RentHelpMN right away at https://apply.renthelpmn.org/mnera#/.