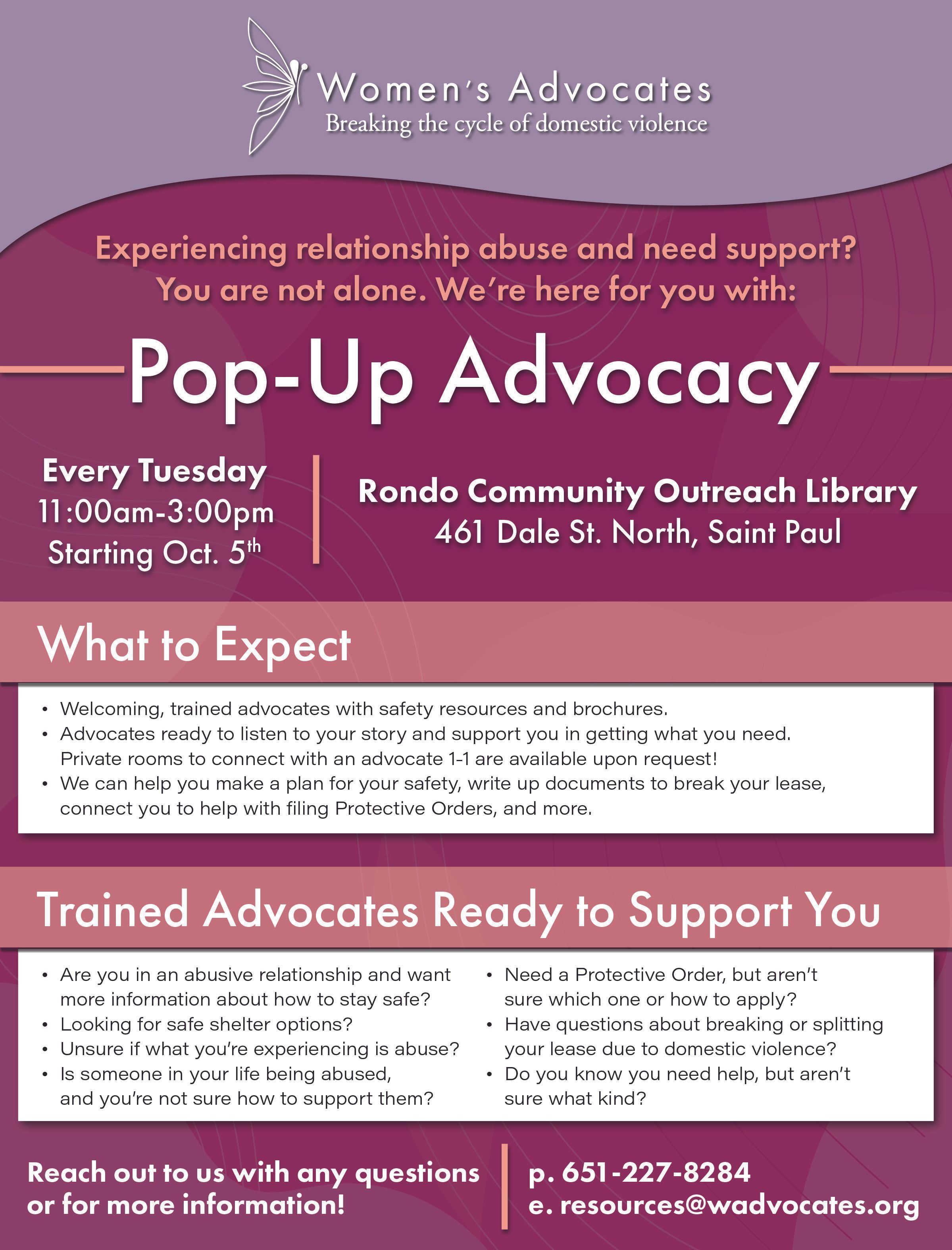 October is Domestic Violence Awareness Month. A recent report from Violence Free Minnesota reveals that intimate partner violence, already a longstanding epidemic in the United States, has significantly increased in the 18 months since the COVID-19 pandemic began. Still, there is help available for those experiencing relationship abuse in our community. 
Starting tomorrow, October 5, 2021, the St. Paul-based shelter Women's Advocates will begin hosting Pop-Up Advocacy sessions every Tuesday, from 11:00 am to 3:00 pm, at Rondo Community Outreach Library (461 Dale Street North, St. Paul, 55103). Those taking part in these sessions will be welcomed by professionally trained advocates who are ready to listen to your story, connect you to critical resources, and work to develop a plan for your safety. This includes help breaking a rental agreement (if necessary), assistance filing a protective order, finding emergency shelter, and other services to support safety and healing. Should you prefer, you can request a private room to meet with an advocate one to one.  
For more details on Pop-Up Advocacy at Rondo Community Outreach Library, please reference the flyer that accompanies this blog. And, for any additional questions, please feel free to call Women's Advocates at 651-227-8284, send an email to resources@wadvocates.org, or visit them online. For those residing outside of the St. Paul/Ramsey County area in need of immediate assistance, you can find programs and services near you by visiting Violence Free Minnesota online or by calling the Minnesota DayOne hotline at 866-223-1111.