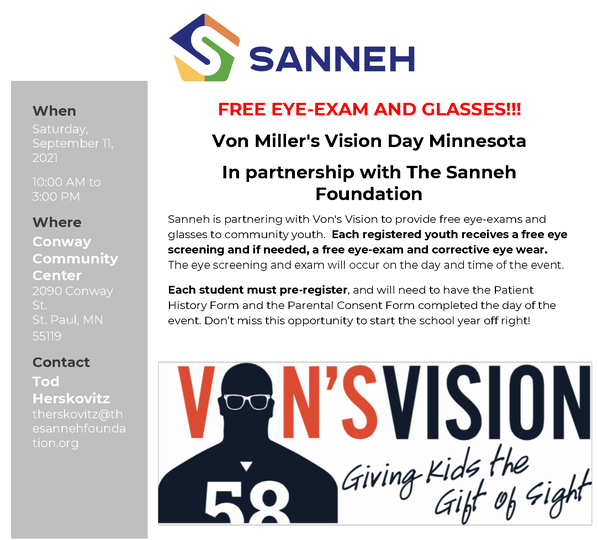 In 2012, NFL All-Pro and Super Bowl MVP Von Miller established Von's Vision, a nonprofit organization whose mission is "to provide low-income students with eye care and fashionable corrective eyewear they need to be their best in the classroom and in life." This weekend, Von's Vision is partnering with St. Paul's The Sanneh Foundation to support the optical health of Twin Cities school children.
On Saturday, September 11, from 10:00 am to 3:00 pm, local youth can sign up to receive a free eye screening at Conway Community Center (2090 Conway Street, St. Paul, 55119). And, if necessary, participating youth will also be provided with a free eye exam and outfitted with free corrective eyewear courtesy of Von's Vision and The Sanneh Foundation. Participants must pre-register for this event and complete both a patient history form and parental consent form. To register (and print/fill out the requisite forms), just follow the weblink below…
Von Miller's Vision Day Minnesota in partnership with The Sanneh Foundation (constantcontact.com)
For questions or additional information on Von Miller's Vision Day Minnesota, please contact Tod Herskovitz at therskovitz@thesannehfoundation.org or call 651-690-4855.
About The Sanneh Foundation (https://thesannehfoundation.org/#)
The Sanneh Foundation serves the holistic youth development needs of the increasingly diverse Twin Cities metro area. Our mission is to empower youth by supporting and promoting educational attainment through in-school and after-school support, improve lives by providing programs that strengthen physical health and social and emotional development, and unite communities by advancing diversity, equity, and community well-being.