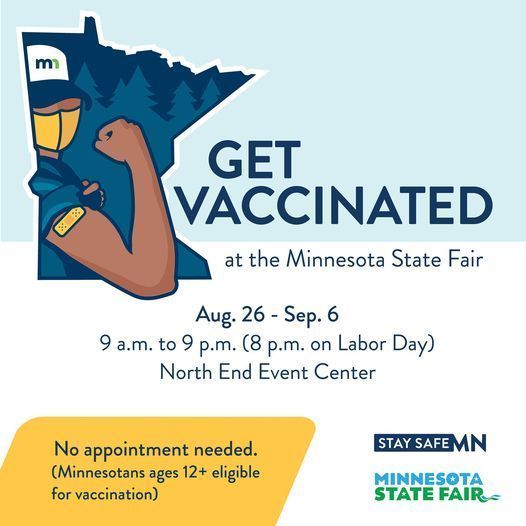 Starting today August 26, visitors to the Minnesota State Fair can stop by the COVID-19 Community Vaccination Clinic to receive their first dose of the Pfizer vaccine or the single-dose Johnson & Johnson vaccine (based on availability).  Moreover, the state has once again expanded its current vaccination reward initiative to include the first 3,600 people ages 12 and older (18 and older if selecting the Johnson & Johnson vaccine) that get their first shot at the fair. Those individuals will receive a $100 Visa gift card. 
The fairgrounds vaccination clinic is located at the North End Event Center (view map here) and is open every day from 9:00 am to 9:00 pm from August 26 through September 5, and from 9:00 am to 8:00 pm on the final day of the State Fair (Labor Day, September 6). To register in advance for your vaccine appointment, please call 833-431-2053 or visit the COVID-19 Vaccination at the MN State Fair webpage. Walk-up appointments are also welcome, however anyone who visits the vaccination clinic is also obligated to purchase a ticket to enter the fairgrounds. 
Those getting their vaccine are required to wear a mask and comply with social distancing requirements. Participants must also confirm their first and last name, date of birth, and home address. Official identification (State ID, drivers license) are NOT required, nor is medical insurance. Interpreters and ASL support is available both on-site and the registration phone line. ADA accommodations are also available on site. The Minnesota Department of Health, St. Paul-Ramsey County Public Health, and Homeland Health Specialists encourage residents to share this information online using this link and the hashtag #GreatMinnesotaVaxTogether.