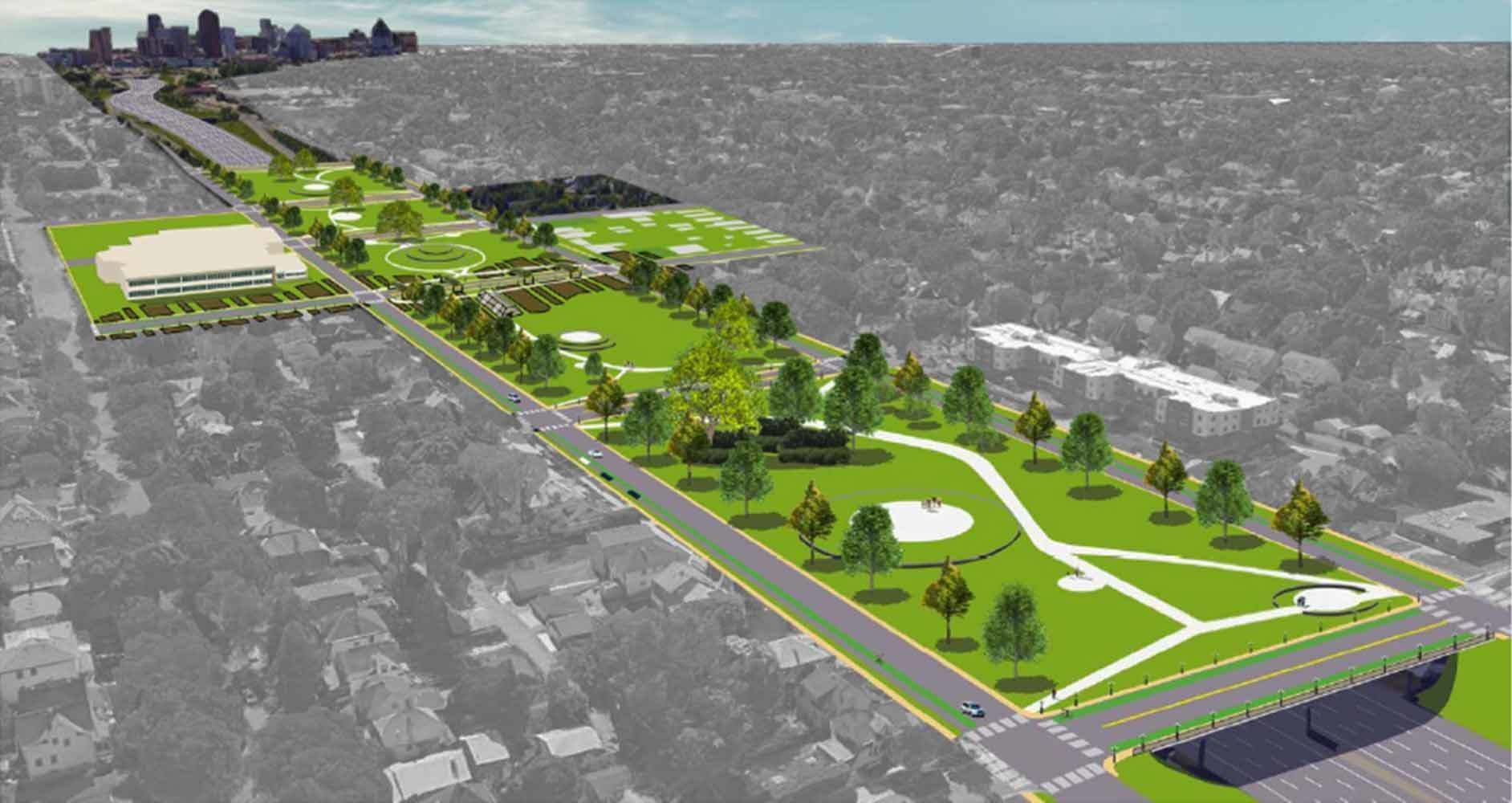 The proposed Rondo Land Bridge project is now closer to becoming a reality as the State of Minnesota has committed more than $6 million to the planning process. Marvin Roger Anderson, Board Chair of ReConnect Rondo, the nonprofit agency leading the push for the new land bridge, tells the St. Paul Pioneer Press that the newly appropriated state dollars:
"…should take us through all of the steps that are going to be required in order to determine the feasibility, the       placement, the logistics. There has also been a significant amount of money set aside for community engagement, which we have been planning to do for quite some time."
Approximately $5 million in federal support may also be made available through the Invest in American Act passed by the House of Representatives yesterday, though still awaiting a vote in the U.S. Senate. In addition, the Metropolitan Council has approved funds for the planning stages, which, as Pioneer Press reporter Frederick Melo explains, are aimed "toward studying ways that real estate development on the Rondo land bridge can move forward without displacing local residents, a growing concern in some corners of the neighborhood."
To address these concerns and invite community engagement during the process, ReConnect Rondo is hosting new Listen and Learn meetings on Zoom, including morning and evening sessions next Wednesday, July 7, at both 10:00 am and 5:00 pm (CST). To register, please visit the link below and complete the form to receive an invitation link to one of the two Zoom meetings on July 7.
https://docs.google.com/forms/d/e/1FAIpQLSevkVO4e8HmGScI90-AldjFZ5co_s4zdYiTaidMv5e6XbjG7Q/viewform
And, for more information on the proposed Rondo Land Bridge and how you can help, see below and visit ReConnect Rondo at https://reconnectrondo.com/.
About the Rondo Land Bridge
The Rondo Land Bridge will create a "cap" or "lid" over the Interstate 94 freeway reconnecting the historic Rondo neighborhood, "recreating land that was once lost." This space will support single and multi-family housing, retail space, a performing arts complex, a large community park, and other social and economic resources, all with a focus toward racial equity, transportation justice, and fighting climate change. According to ReConnect Rondo, this new African American Culture and Enterprise District will help to:
Right past wrongs that systematically impacted our African American residents
Generate untapped revenue with the potential of 15-16 acres of untaxed land
Create long overdue economic opportunities for African Americans
Revitalize Rondo while vigorously defending it from gentrification and displacement
Share Rondo's vibrant culture as a Minnesota treasure
Build a global model for restoration and equitable development success