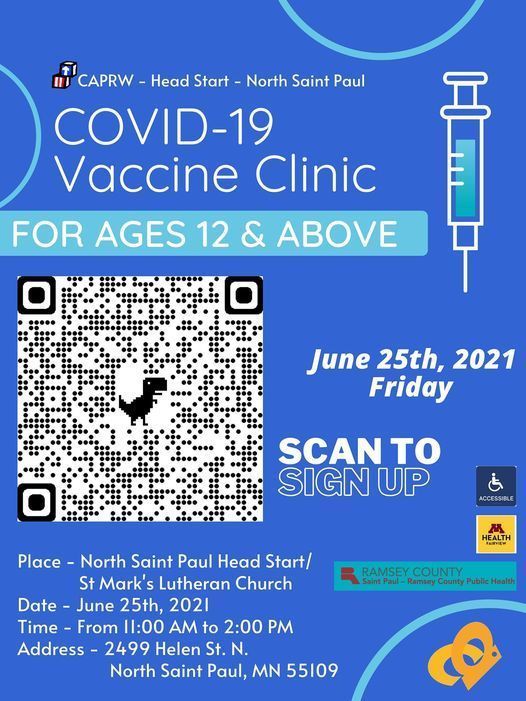 CAPRW Head Start is hosting another COVID-19 Vaccine Clinic this coming Friday, June 25, 2021, at our North St. Paul Head Start Center (St. Mark's Lutheran Church, 2499 Helen Avenue N, North St. Paul, MN 55109). This clinic will operate from 11:00 am to 3:00 p.m. CST and anyone 12 years of age and older is eligible to receive their vaccine. Vaccines are free and no insurance is required.
To sign up for your shot, please fill out this form on google docs, which will allow you to select your preferred time slot and indicate the number of people from your household who will be getting vaccinated. Special thanks to our clinic partners Saint Paul–Ramsey County Public Health and M Health Fairview. 
We would also like to remind newly vaccinated individuals that there is still one week to claim your prize as part of the State of Minnesota's Your Shot to Summer Vaccination Rewards initiative. Anyone that receives at least one dose of the COVID-19 vaccine between May 27 and June 30, is eligible for one of several rewards, including Minnesota State Fair tickets, single-day passes to Valleyfair, a Minnesota Fishing License, and admission to the Minnesota Zoo among other prizes. Rewards must be claimed no later than 11:59 p.m. CST on Wednesday, June 30, by submitting proof of vaccination to the Minnesota Department of Health on either the Your Shot to Summer Vaccination Rewards webpage or by calling 833-431-2053.