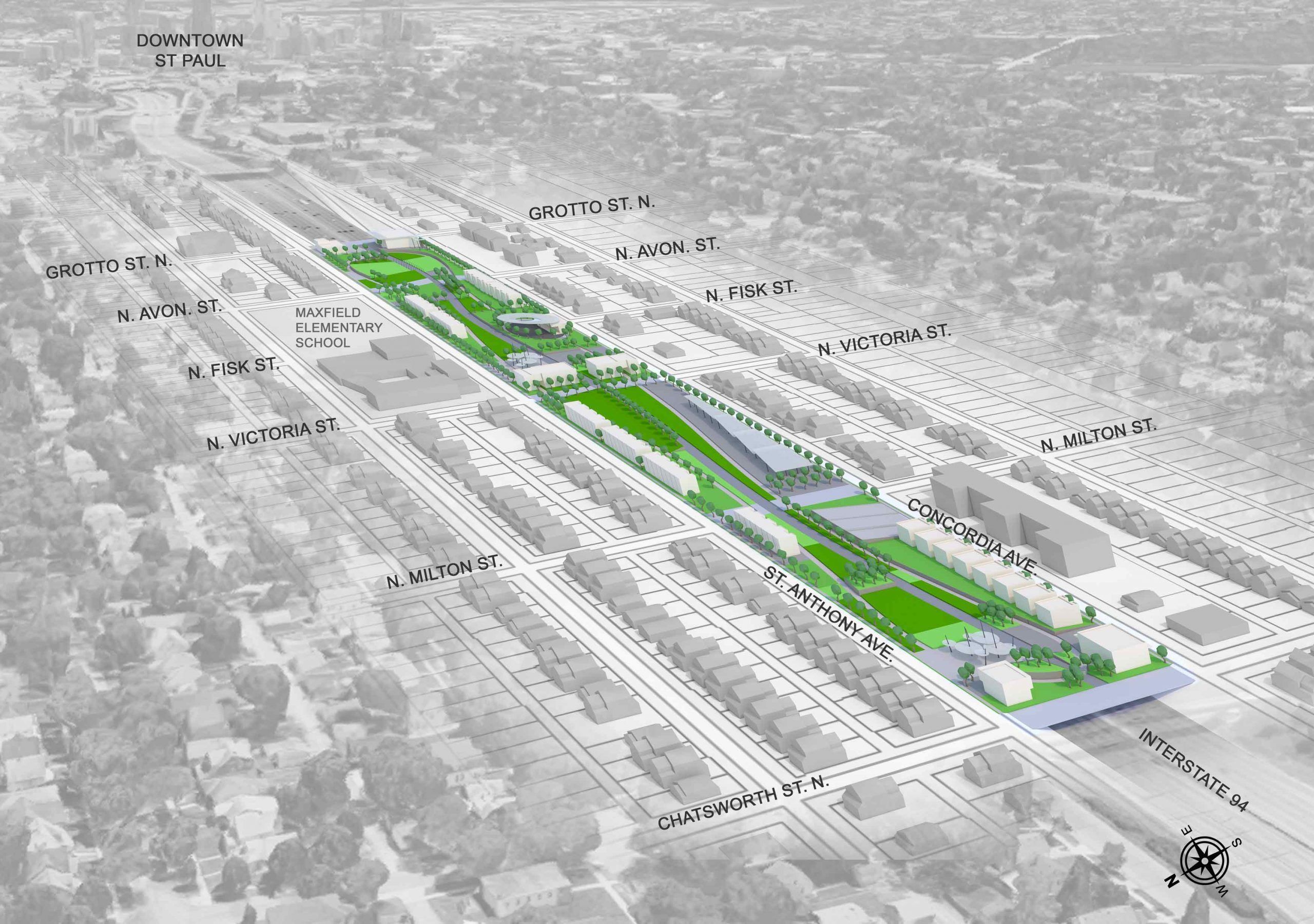 "[The Rondo Land Bridge] is a chance to realize a significant physical connection that enhances livability while also making up for long overdue social justice… the way to right past wrongs, reweave the community through shared history and create an equitable future we can all be proud of."

—ReConnect Rondo
ReConnect Rondo is launching an "online listening tour" as part of its grand vision to build the Rondo Land Bridge over Interstate 94 in St. Paul, from Grotto Street to Chatsworth Street. This virtual tour is designed to engage the larger community in the historic push to establish a vibrant cultural enterprise district and restore the city's historic African American community that was devastated and dispossessed by the construction of the I-94 decades ago.
The tour begins today with a one-hour Zoom session titled "Getting Reacquainted with ReConnect Rondo." Plus, "listen and learn" events will continue on Zoom Tuesday through Thursday of this week, focusing on such topics as: housing security, stability, and affordability; cultural enterprise and neighborhood connections; health, wellness, and community amenities; and community dreams for the future of Rondo. To accommodate varying community schedules, each session provides multiple opportunities to participate. For specific dates, times, topics, and how to register for each session, click here.
ReConnect Rondo will also be hosting interactive Community Impact Workshops during the month of June. This includes a two-day workshop (June 2 & 3) on development ideas and solutions to help restore the Rondo neighborhood, and a workshop on funding strategies that will take place on Tuesdays and Thursdays from June 10 through June 29. For additional details and to register for this workshop, please visit reconnectrondo.com/engage/.
More about the Rondo Land Bridge
The proposed Rondo Land Bridge will be a "cap" or "lid" over the Interstate 94 freeway for approximately six blocks between Grotto Street North and Chatsworth Street North, reconnecting the historic Rondo neighborhood and "recreating land that was once lost." This space will support single and multi-family housing, retail space, a performing arts complex, a large community park, and other social and economic resources, all with a focus on racial equity, transportation justice, and combatting climate change. According to ReConnect Rondo, this new African American Culture and Enterprise District will:
Right past wrongs that systematically impacted our African American residents
Generate untapped revenue with the potential of 15-16 acres of untaxed land
Create long overdue economic opportunities for African Americans
Revitalize Rondo while vigorously defending it from gentrification and displacement
Share Rondo's vibrant culture as a Minnesota treasure
Build a global model for restoration and equitable development success
For more on the Rondo Land Bridge and how you can help, please visit ReConnect Rondo online.