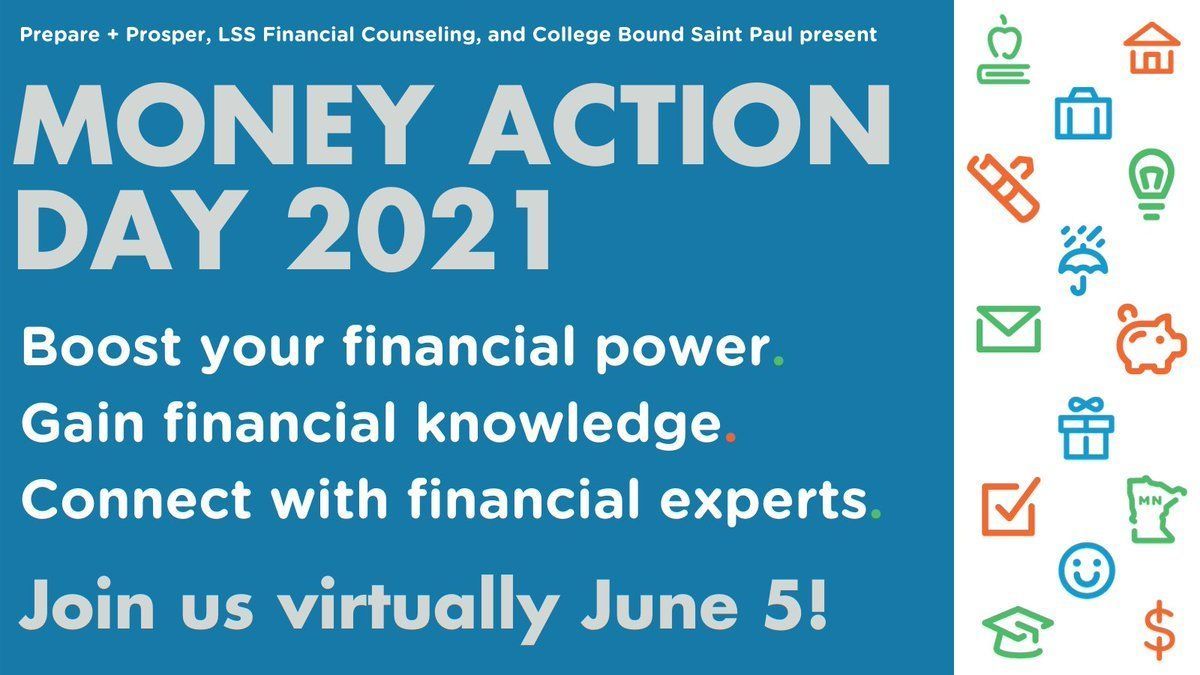 BOOST YOUR FINANCIAL POWER! 
Saturday, June 5, is Money Action Day. Presented by Prepare + Prosper, LSS Financial Counseling, and College Bound Saint Paul, Money Action Day 2021 is a virtual seminar "designed to connect families to the resources, tools, and support needed to reach their financial goals." Workshops include:
Preparing for Homeownership
Retirement Planning
Life Insurance, & Estate Planning
Budgeting
Building Credit
Build Your Children's Financial Skills
Navigating Public Benefits
Starting a Small Business
Participants will also have the opportunity to schedule one-to-one sessions with financial experts. Money Action Day is free and open to Twin Cities residents of all ages. This seminar will be held from 9:30 am to 2:00 pm (CT) on Saturday, June 5, 2021. For more information and to register for this one-day virtual event on Zoom, please follow this google link:
https://sites.google.com/view/moneyactionday/home.
Once registration is completed, you will receive a short survey that will enable you to select your workshop preferences and allow you to connect directly to a financial professional for a one-to-one session following the seminar.
About Prepare + Prosper
Prepare + Prosper and its volunteers work with low- to moderate-income people to build financial well-being through free tax preparation and financial services, products, and coaching, and by changing systems to create economic opportunity.
About LSS Financial Counseling
LSS Financial Counseling is a nonprofit, holistic credit counseling organization that offers quality guidance, knowledge and tools that empower individuals and families to achieve freedom from debt and financial worries, purchase a home and more.
About CollegeBound Saint Paul
CollegeBound Saint Paul seeks to provide a pathway to a brighter future for both families and the city by connecting families and their children to early childhood resources as well as financial education and tools to be financially healthy.