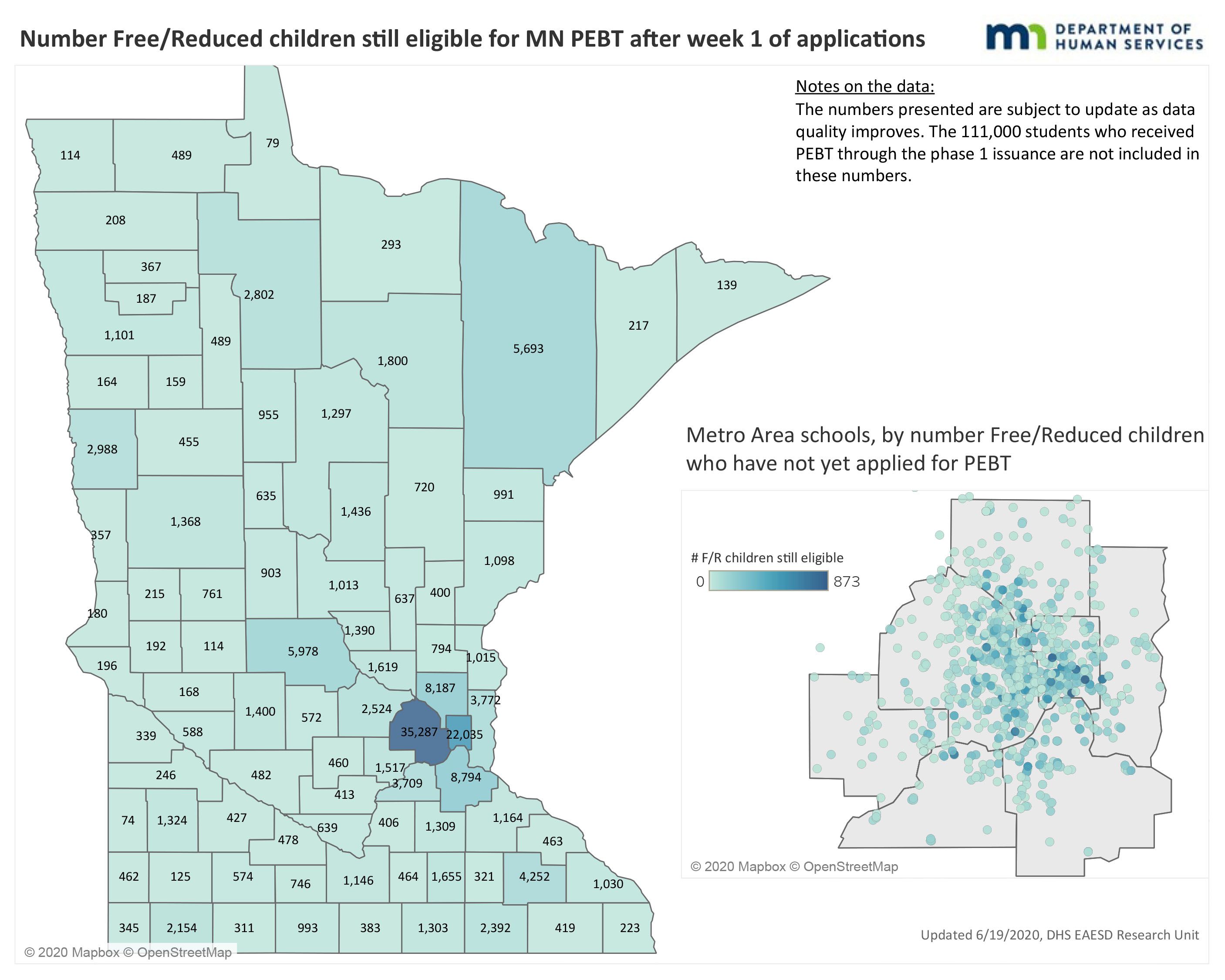 After the first week of applications (June 8 to June 14), the new Pandemic-EBT (P-EBT) program successfully provided $325 in additional food support benefits to 111,000 Minnesota children. However, the Minnesota Department of Human Services (DHS) reports that the families of approximately another 150,000 eligible kids have yet to apply for this one-time benefit designed to serve the nutritional needs of the state's school age children in the face of COVID-19. Roughly 83,000 of these children live in the Twin Cities metropolitan area, including more than 22,000 in Ramsey County and almost 4,000 in Washington County.
The deadline to apply for P-EBT benefits is next Tuesday, June 30, 2020. So if you, or someone that you know has children (aged 5 to 18 as of September 1, 2019) that were: 1) receiving free or reduced-priced lunches during the 2019-2020 school year, 2) were enrolled in a Community Eligibility Provision School, or 3) access food through the Food Distribution Program on Indian Reservations (FDPIR), please visit the Code for America website to apply. Online applications are available in English, Spanish, Somali, Hmong, Vietnamese, and Russian.  
For any questions about P-EBT or assistance submitting an application, you may call the Minnesota P-EBT hotline at 651-431-4050 or 800-657-3698. The online application will be available in multiple languages no later than tomorrow, June 25th. Otherwise, the P-EBT hotline can also assist with benefit applications in several different languages. 
The DHS wants all eligible households to know that applying for P-EBT benefits does not affect your enrollment in any other program or impact the immigration status of your child(ren) in any way. Moreover, the Public Charge rule does not apply to the receipt of P-EBT benefits.