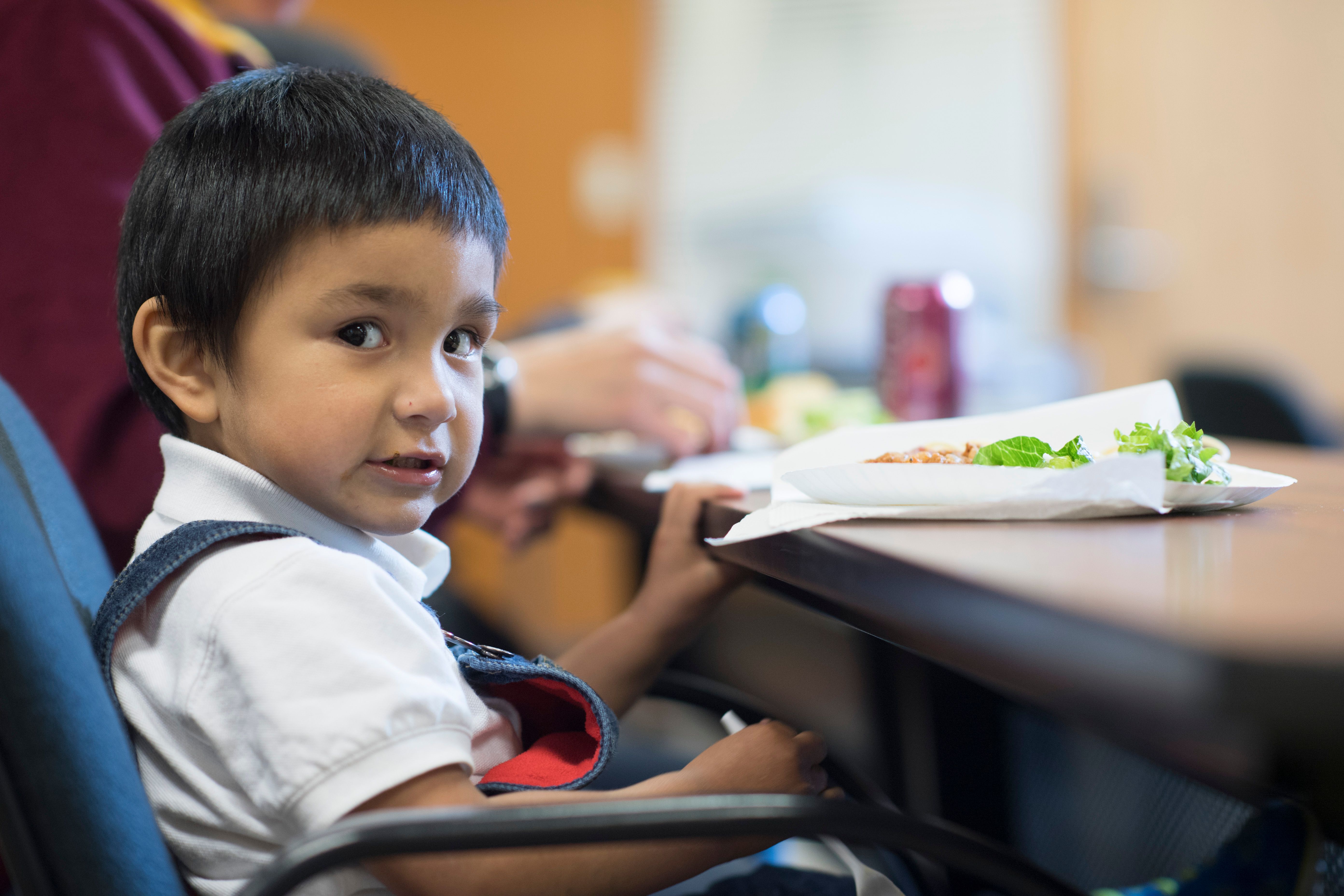 As we noted in the May 18, 2020, installment of "Working Together," the first blog of each new week (for at least the next seven weeks) will spotlight the previous Tuesday's food distribution event. Since mid-March, Community Action Head Start has been operating distribution sites at three of its centers in St. Paul to help meet the nutritional, developmental, and household needs of its Head Start/Early Head Start families during this public health crisis.
Last Tuesday our efforts provided more than 4,100 meals to 345 Head Start children. And, in addition to food and educational materials, Head Start staff passed out a multitude of essential home care items to families including toilet paper, paper towels, hand sanitizer, shampoo and conditioner, feminine hygiene products, as well as additional food items donated by a local food shelf.
As a bonus feature to this particular blog, we are pleased to also share our distribution totals for April. The largest Tuesday turnout was 263 families, and all told, Head Start served more than 13,000 meals (4,376 breakfasts, 4,376 lunches, and 4,376 snacks) during the entire month. Likewise, we provided more than 300 meals to 24 of our Early Head Start kids. 
April also yielded one of the more adorable anecdotes that the staff has witnessed to date. Head Start's very own Family Services Specialist, Rich Boyce has been delivering extra meals to one of our long-time agency partners, Wilder Child Development Center. The director of the center shared with Rich that one of the little girls hoped "that the nice man with the white hair brings more food over because my mom said it helped us."
With the exception of this coming week, when the distribution event will take place on a Wednesday (to accommodate the holiday), the Community Action Head Start/Early Head Start food distribution centers will continue operating each Tuesday (through at least the month of June) at University HS Center (450 Syndicate Street N), Battle Creek HS Center (2181 Suburban Avenue), and McDonough HS Center (1544 Timberlake Road).
Upcoming schedule:
Wednesday, May 27, 11:00 am – 12:30 pm
Tuesday, June 2, 11:00 am – 12:30 pm
Tuesday, June 9, 11:00 am – 12:30 pm 
Tuesday, June 16, 11:00 am – 12:30 pm 
Tuesday, June 23, 11:00 am – 12:30 pm
Tuesday, June 30, 11:00 am – 12:30 pm
On May 15, the USDA announced that it is extending three nationwide waivers (non-congregate feeding, parent pickup, and meal times) through August 31, 2020, to allow "child nutrition program operators the flexibility they need to continue to feed children while promoting social distancing and keeping families safe during the COVID-19 pandemic." Therefore, it is possible that we will be able to prolong our food distribution events deeper into the summer. More details will be forthcoming soon.  
If you are a Head Start or Early Head Start family and would like to participate in this community initiative, please contact your child's teacher, Family Advocate, Home Visitor or Center Education Coordinator to register. You can also text Ms. Molly at (651) 285-1929. Please share your child(ren)'s name, birthdate and the center they attend. To view an informational Facebook video about our food distribution efforts in English, Spanish, Somali, Hmong, or Karen, please visit the following link.
Community Action Partnership of Ramsey & Washington Counties is an equal opportunity employer and provider.