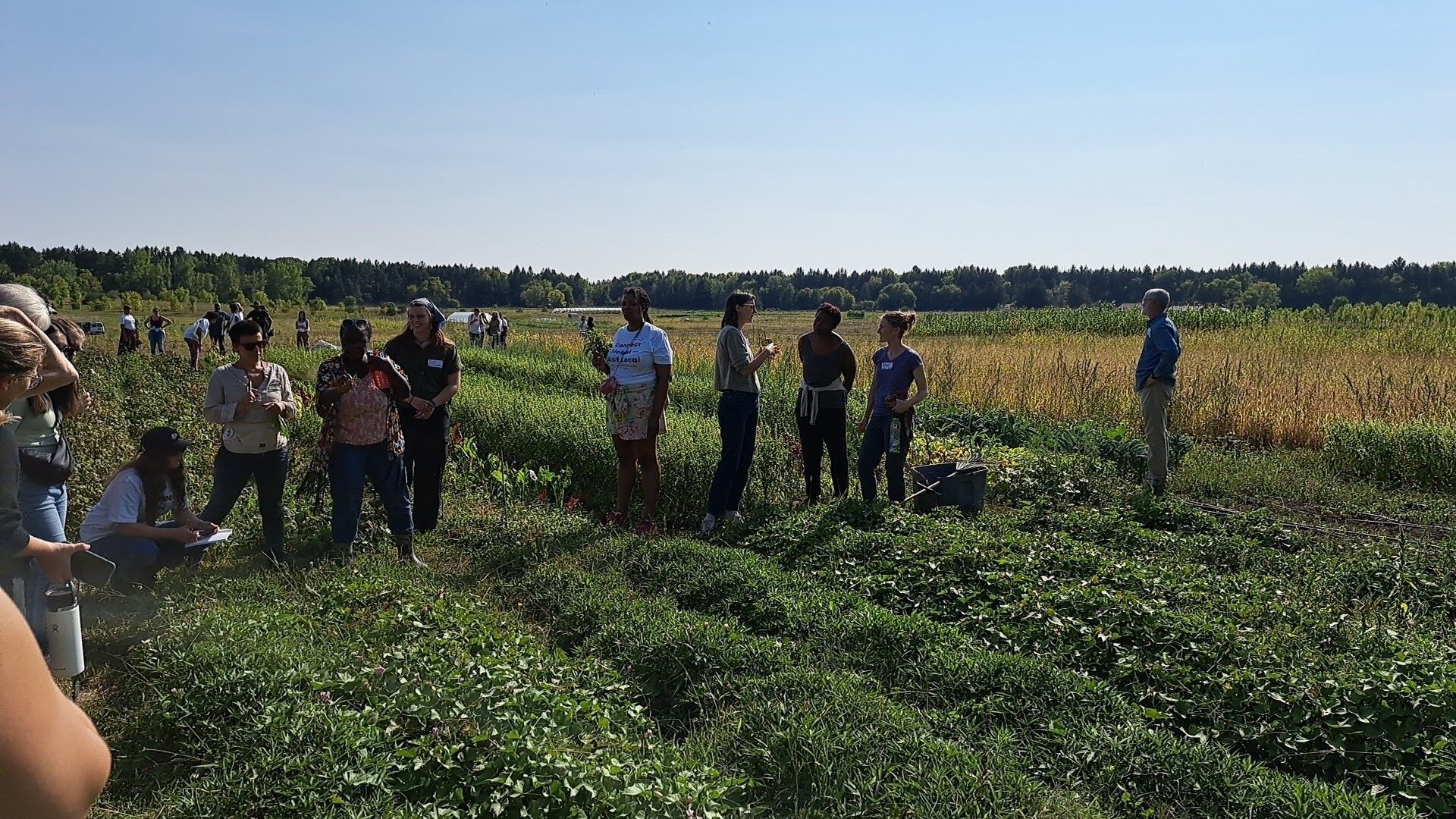 It was a slightly breezy but increasingly hot Friday afternoon as Winnifred trekked a handful of us to her half acre garden located at Big River Farms, readily showing us her prized vegetables and herbs. The occasional garden snake and ground squirrels would pop out from under your feet if you were not careful where you stepped. It was a day of tasty veggies and lots of gardening questions. Winnifred, a full time worker, mother, grandmother spent her summer days as a banker, and nights plus weekends tending to her garden. She would come out in the evenings with garden pants, gloves, trimmer and headlights to ensure that each of her plants were nurtured. The ever presence of growing weeds has trumped her. But every week she will gladly drive an hour out to the farm with the biggest smile as the stars peeks out.
Her garden is all possible due to Big River Farms located in Marine on St. Croix and The Food Group. A nonprofit focused on fighting hunger and addressing food security. Big River Farms, a program of the The Food Group, sits on a 150 acre plot of land focused on creating farmers and cultivating a community for farmers. Each year the farm allows people to apply and to become a farmer for the season with some farmers reapplying the season after.
Winnifred is one of 18 farmers cultivating each of their own plots of land at Big River Farms this year. Modeled like a shared co-op for farming. Each garden plot is unique and purposeful as the farmer that takes care of it. Some plots are 4 acres and beyond while some are a half acre. Some grow strictly cover crops while others may only grow herbs unique to the farmer's culture. What is amazing about this program is that all of these farmers are metro area dwellers learning to be farmers or don't have the necessary funds and support to cultivate their own. Although some may have more experience than others, they all share advice, physical support, and farming tools. Such as the one tractor which can be "tricky to share in the spring" as said by Farmer Oredola, a three year veteran farmer at Big River. There is also a shared harvesting shed that washes and helps the farmers prep their produce when fall comes. During fall, harvesting comes and the finished produce can be for personal use and community use. Some of the produce goes to local food shelters others go to places such as the Minneapolis School District to feed young minds.
You see Big River Farms is trying to not only create farmers but make farmers that stay farming while understanding the food system. By allowing interested members of the community to learn and cultivate the food ecosystem there is a better appreciation for the work that is being put into farming. As the cost of living goes up and older farmers are giving up the trade. Big River Farmers aims to make farming accessible, enjoyable, and beautiful. So that there are hundreds of farmers like Winnifred.
If you are interested in this amazing opportunity please check out The Food Group's website for more information on how to get connected or even become a farmer at Big River Farms.
Photo: Farmer Winnifred (Third from left) shows us (community organizers) her rows of potatoes and tells us the difficulties/differences in sweet potato vs russet vs large potatoes.