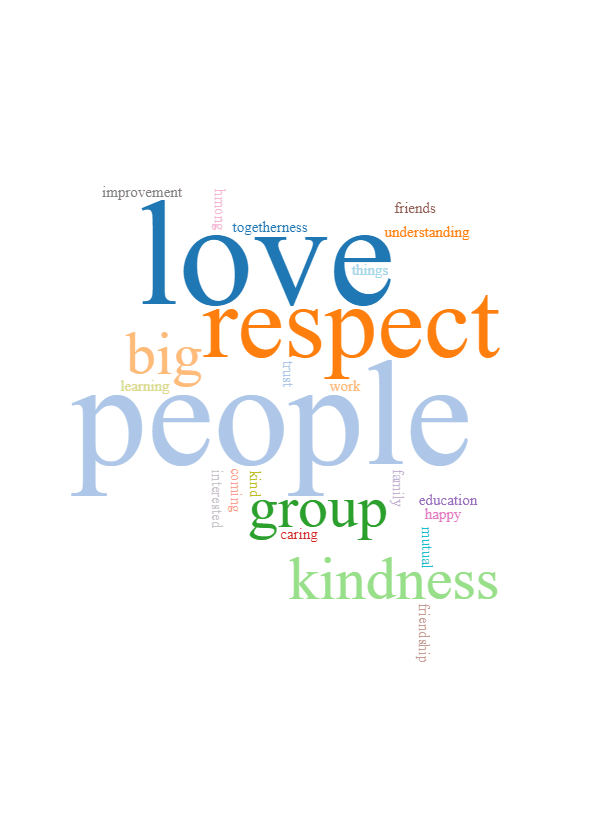 Last week, two of our staff members attended an Opportunity Fair hosted at Central High School in St. Paul to engage and educate students on nonprofit work, volunteerism, and more. We hosted an activity to ask students "What does community mean to you?" They drew or wrote down on a canvas what community meant to them: their answers are reflected in the word cloud.
For Central High School students, community means love and caring–respect and togetherness. It means acting together and working together. Community is your friends, your family, your school, your neighborhood. Community is safe. Community is where you feel united.
Community is vital to how we operate in the world. People may share common interests, goals, and values. It can take many different forms, from a small group of friends to a large organization like Community Action.
Community also carries different meanings across cultures, people groups, and generations. Ultimately, community is a place that supports you and a place where you feel like you belong.
This spring, consider what community means to you and how you can make a positive impact in your local community. Think about the people, organizations, and places that make up your community and how you can get involved. Whether it's volunteering at a local nonprofit, attending community events, or getting to know your neighbors, there are so many ways to support and strengthen the bonds of your community.
Together, we can create vibrant and inclusive communities that benefit us all. So, let's take action and start building a better world, one community at a time:
Are you an organization, business, or group wanting to partner with us? Contact our Community Partnerships Coordinator Andy Vue at avue@caprw.org to learn more.
Interested in volunteering? Check out our available volunteer opportunities on our website, and contact volunteers@caprw.org for more info.