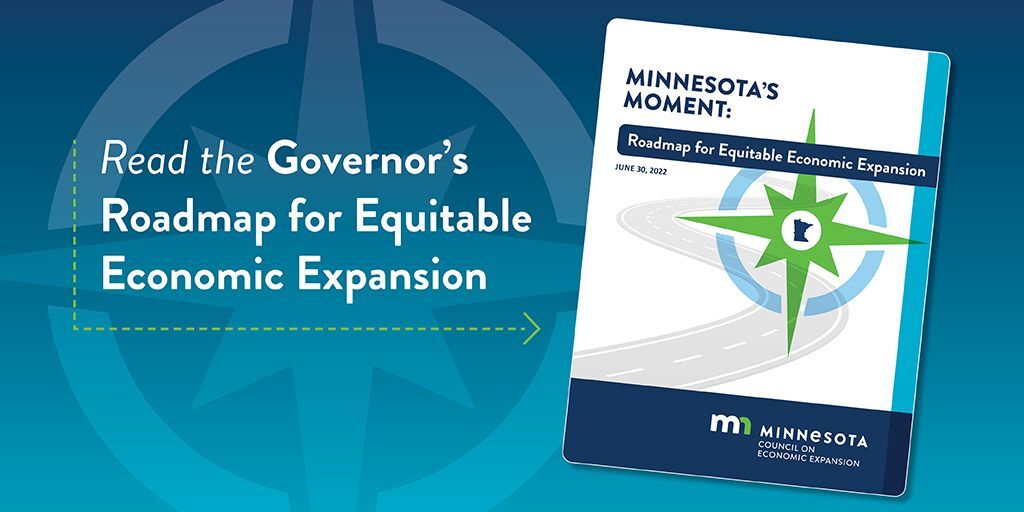 In the fall of 2021, the newly formed Governor's Council on Economic Expansion (GCEE) in Minnesota published its Phase 1 Report. The GCEE was "established to catalyze progress toward an equitable, inclusive, sustainable, and resilient economy" in the North Star State, and this initial report prioritized specific policy and investment recommendations around critical themes designed to benefit BIPOC (Black, Indigenous, People of Color) households. Themes that included: housing and homeownership; workforce diversity and development; entrepreneurship and small business development; infrastructure and technology; childcare and early childhood education; healthcare and mental health supports; youth engagement and employment; and community support and engagement.
And, earlier this summer, the GCEE published its 10-year plan based on these previous recommendations, titled, Minnesota's Moment: A Roadmap for Equitable Economic Expansion. This report highlights the GCEE's vision around those aforementioned themes, and, the processes, strategies, "transitional thinking," and goals for Minnesota by the year 2032. In executing this roadmap, the GCEE:
"…envisions a future for Minnesota in which the essential drivers are in place to create thriving communities and support businesses—a future in which every Minnesotan has access to holistic supports and health equity, where our people and communities drive equitable, inclusive, sustainable, resilient economic expansion."
Furthermore, the GCEE has "distilled this vision into five statements we must aspire to as a state in the next decade to ensure Minnesota's economy leads the nation – and works for everyone." These statements demand that Minnesota:
…has the essential drivers in place to ensure economic prosperity for all residents.
…is home to thriving communities where people want to live and work.
…is nationally recognized as a top state to launch and grow a business.
…invests holistically in its current and future workforce to remove systemic barriers to help everyone prosper and reach their full potential.
…is a place where every person has the opportunity to attain their full health potential and no one is disadvantaged from achieving this potential because of social position or other socially determined circumstances
For more information on the GCEE, including its members, minutes and recordings from previous meetings, research, resources, public comments report, and contact information, please visit them online. And, to read Minnesota's Moment: A Roadmap to Equitable Economic Expansion, click here.