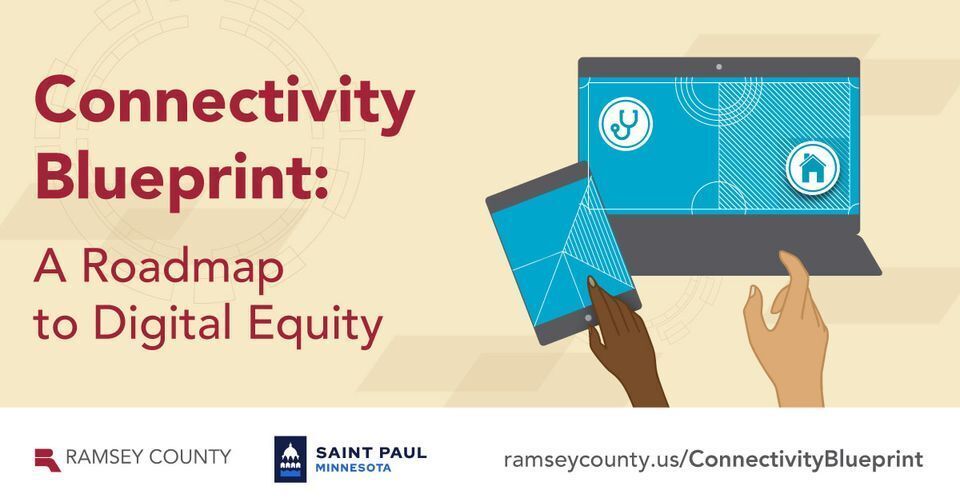 Ramsey County and the City of Saint Paul have partnered on a new initiative known as the Connectivity Blueprint: A Road Map to Digital Equity. Digital equity is essential to our communities as it is part and parcel of the "foundation of a fair future and inclusive economy" in the 21st century, ensuring that everyone has access to resources, opportunities, and the services they need.
With the support of SDK Communications and a 17-member expert steering committee, the Connectivity Blueprint seeks to:
Engage about their experience living with limited access to technology
Focus on areas with limited access to internet and computers
Assess the broader impact of digital equity on different communities
To learn more about the importance of digital equity, take the Connectivity Blueprint survey here. Those that complete the survey can enter a drawing for a $50 gift card. You can also register for the August 10, 2022 (10:00 am Central Time) webinar on Zoom for project updates, ways you can assist this work, and other digital equity resources.
The Connectivity Blueprint website also features additional tools, including both an interactive story map and a digital equity map that highlights where residents "are full connected – and where people are in danger of being left behind from an online future." This page also contains detailed data on how digital inequities can negatively impact employment opportunities, financial stability, and access to housing, education, healthcare, nutrition, transportation, and other basic needs.
"The work of moving toward digital equity is critical right now and the way we engage our world has been forever changed by COVID-19," says Pamela Maldonado, a member of the steering committee and Director of Financial Opportunity Programs at Community Action Partnership of Ramsey & Washington Counties. Maldonado continues:
"Access to healthcare, including mental health support, banking, education, and employment require everchanging digital skills and a      doorway to the right technology. Those that lack this knowledge and the appropriate digital resources will struggle to access basic household needs. The recent changes to our digital landscape have taken place with unprecedented speed, and coupled with the pandemic, have only served to worsen the digital divide that already existed. We must address and remedy these inequities now before it's too late."
Once gain, for a comprehensive guide to the Connectivity Blueprint initiative, please visit the project site. And, for questions or comments, call (612) 699-0423.
Funding for the Connectivity Blueprint: A Roadmap to Digital Equity is provided by the American Rescue Plan Act of 2021, Minnesota Work Force Solutions, Ramsey County, and the City of Saint Paul.