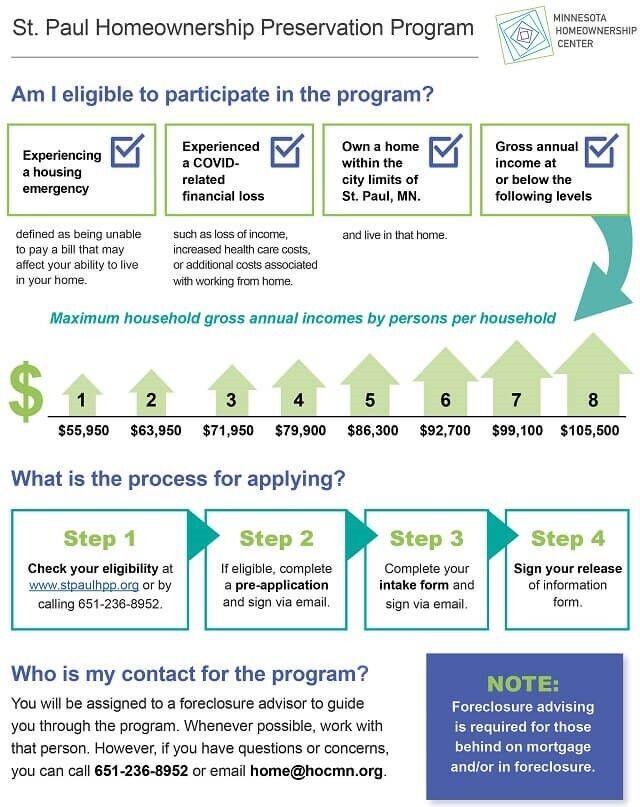 The City of Saint Paul has partnered with the Minnesota Homeownership Center to establish the St. Paul Homeownership Preservation Program (SPHPP). This program is designed to help struggling homeowners within St. Paul's city limits avert foreclosure and offers limited financial assistance to cover past due housing costs.
Examples of these costs include: mortgage principal and interest payments; property taxes and homeowners insurance; homeowner association dues; utility bills (garbage and recycling, water, gas and electric); and late and legal fees required to prevent foreclosure.
In addition to foreclosure prevention advising, the maximum amount available to any household through the SPHPP is $35,000.00. To be eligible for the SPHPP, you must:
Be currently experiencing a housing emergency
Have already experienced a COVID-related financial loss
Own a home within the city limits of St. Paul, MN
You must also not exceed the income eligibility guidelines, which are:
Household Size / Maximum Gross Annual Income
1 / $55,950.00
2 / $63,950.00
3 / $71,950.00
4 / $79,900.00
5 / $86,300.00
6 / $92,700.00
7 / $99,100.00
8 / $105,500.00
To qualify for financial assistance, homeowners must also demonstrate that they are able to pay for any housing expenses future housing expenses. To apply to the SPHPP, please follow the four step process listed below:
Check your eligibility at https://www.hocmn.org/stpaulhpp/ or by calling 651-236-8952
If eligible, complete your pre-application form and sign via email
Complete your intake form and sign via email
Sign your release of information form
Homeowners enrolled in the SPHPP must agree to take part foreclosure prevention advising. Participants will be assigned an advisor to guide them through the program. For additional information, please visit the SPHPP dedicated webpage. You can also access the program's FAQ page here. And finally, you can call the SPHPP at 651-236-8952 or send an email to home@hocmn.org.