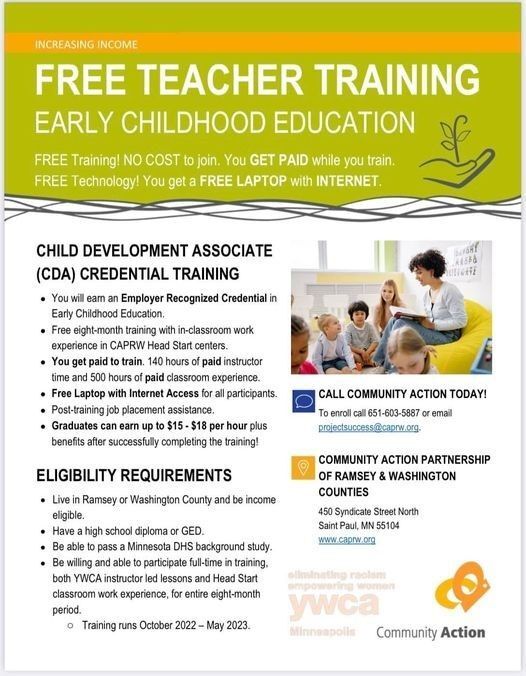 Community Action Partnership of Ramsey & Washington Counties is enrolling participants in the next cohort of our Child Development Associate® (CDA)—Preschool credential training program. A partnership between Community Action Head Start, our Financial Opportunity Programs, and the YWCA, this program was established to recruit and train new early childhood education professionals, including current Head Start parents and caregivers.
The length of the program is 8 months, and each participant will receive 140 hours of paid classroom instruction and additional 500 of paid training as a Teacher's Aide at one of our Head Start centers. In addition to their training, CDA participants will be provided with employment coaching and other supports, including placement assistance and help creating a personal training and employment portfolio. Childcare and transportation assistance will be provided as needed, and all participants receive a free laptop computer and internet access. Eligible participants must:
Be a resident of Ramsey or Washington counties
Meet income requirements
Have a high school diploma or GED
Pass a Minnesota Department of Human Services (DHS) background study
Be willing and able to participate in full-time training, including YWCA instructor led sessions and Head Start classroom work experience for the duration of the program
Upon successful completion of the program, which includes passing an exam and an observation performed by a CDA Professional Development Specialist, program graduates will be qualified to begin a career as an Assistant Teacher in a Head Start program or other high-quality, center-based early childhood education program. Average starting pay in this field ranges from $15 to $18 per hour, plus benefits.
Training begins in October 2022 and runs through May 2023. For more information and to enroll in Community Action's next CDA Preschool credential training cohort, call us at 651-603-5887, or send an email to projectsuccess@caprw.org.