New DIY Tax Prep Workshops in 2023
This tax season, we're doing things differently. We see a future where our community is empowered to file their own taxes with confidence and without spending a lot of money. To support this vision, Community Action will host regular, in-person DIY Tax Prep workshops throughout the 2023 tax season.
In this classroom style workshop, an IRS certified instructor will guide you through the online tax prep tool. You will follow along and enter your own tax information into the tool using the computers we provide.  Volunteers will be nearby to answer your questions, help you navigate the computer, and make sure you complete your tax return with confidence.
You will be empowered to file your own taxes for free and we'll be there to support you every step of the way.
How It Works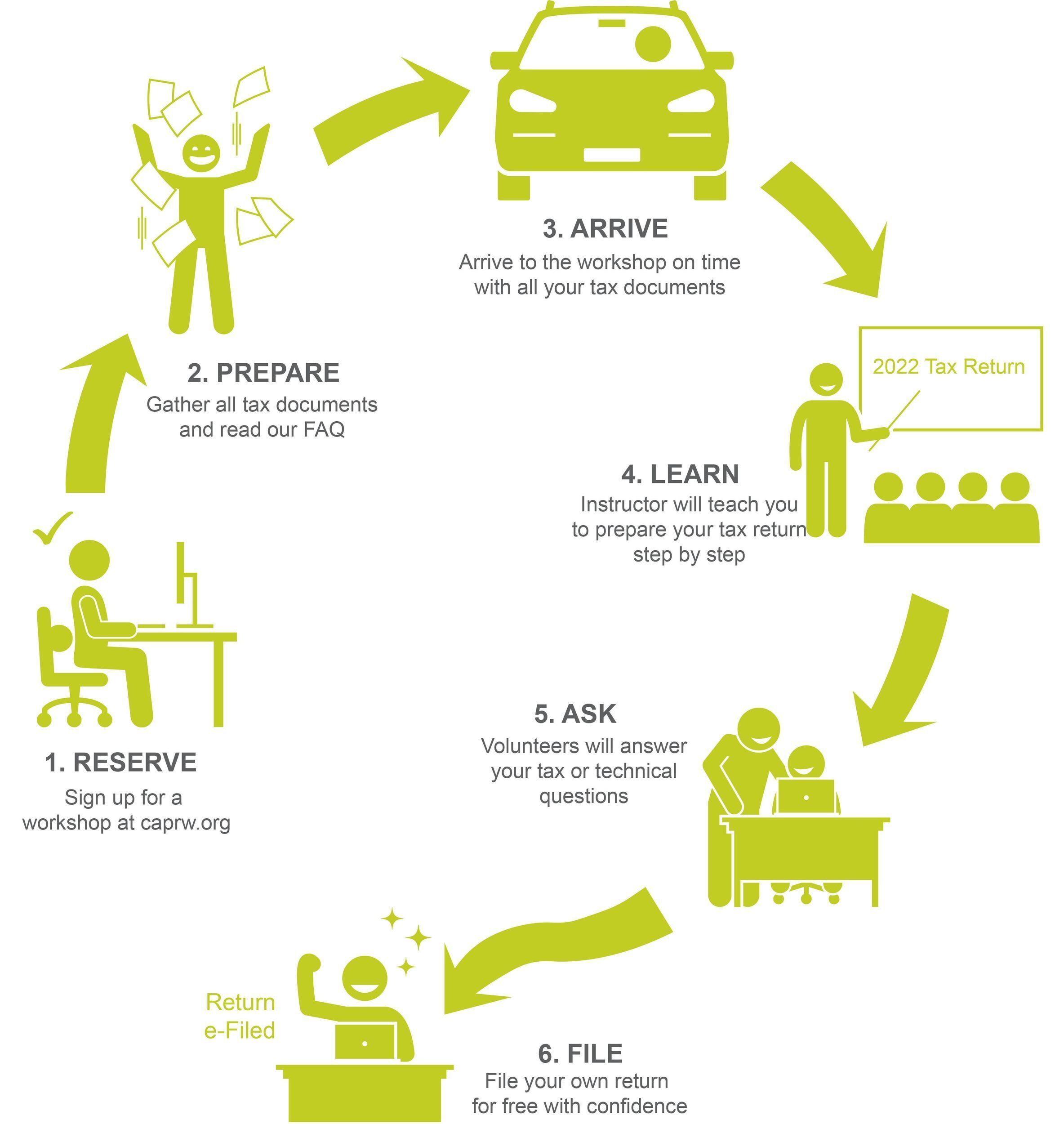 ---
Sign Up for a DIY Tax Workshop
Sign up for workshops will open in January 2023.
Why the Change?
We believe in empowering taxpayers to understand and take charge of their taxes.
We believe that free online tax prep software is an accessible, safe, and simple tool for taxpayers to use.
We are confident that with a little support most taxpayers are fully capable of completing taxes themselves using these free tools.
We know change can be challenging and we know our community will meet that challenge and be better for it.
FAQs
Who's a good fit for DIY Tax Prep?
This service is best for people who: 
Made $73,000 or less in 2022

Have access to email 

Feel comfortable following verbal instructions 

Want to learn more about tax filing 
Tax situations that are more challenging for DIY Tax Prep
People with these tax situations can do DIY Tax Prep, but it is important they understand their tax situation well: 
Self-employed customers 

Filing for education tax credits (college/university/post-secondary students) 

Topics that are out-of-scope for CAPRW (e.g. rental income, bankruptcy, or clergy income) 

Filing multiple state returns 

State returns other than Minnesota are out of scope. You can file for other states via the software but support is limited for non-Minnesota returns, if you run into issues 

Form 1040-NR  
Who's not a good fit for DIY Tax Prep?
People with these situations won't be able to use the free DIY Tax Prep option: 
Made over $73,000 in 2022

Anyone filing returns prior to Tax Year 2022
Are there income guidelines to use DIY Tax Prep?
Yes! If you made over $73,000 in 2022, you cannot use this service. It is very important you verify your income is not over $73,000 before you start your return.
Can a volunteer prepare my taxes for me?
No. This year we are focusing on empowering taxpayers to file their own taxes for free.
---
Cash App Taxes
Do you already feel confident in preparing your own tax return but you want to know how you can file for free? 
There are plenty of websites out there that offer easy at home tax preparation, but few are 100% free and even fewer are 100% free for everyone. Cash App Taxes is completely free for both federal and state returns and does not have an income cap for use. 
Taxpayers who file using Cash App Taxes have the benefit of receiving email support from IRS certified staff or volunteers of CAPRW who will review your tax questions and respond within 48 hours. Contact taxwise1@caprw.org with your tax questions.
Download Cash App to your phone and get started today! https://cash.app/launch/taxes/r/sidn/S26011609
Cash App Taxes: Helpful Resources
FAQ
https://caprw-cash-app-taxes.my.canva.site/
IRS Publication 4836, VITA/TCE Free Tax Programs
https://www.irs.gov/pub/irs-pdf/p4836.pdf
Publication 4053, Your Civil Rights are Protected Poster for IRS Assisted Programs (VITA/TCE/LITC)
https://www.irs.gov/pub/irs-pdf/p4053.pdf
---