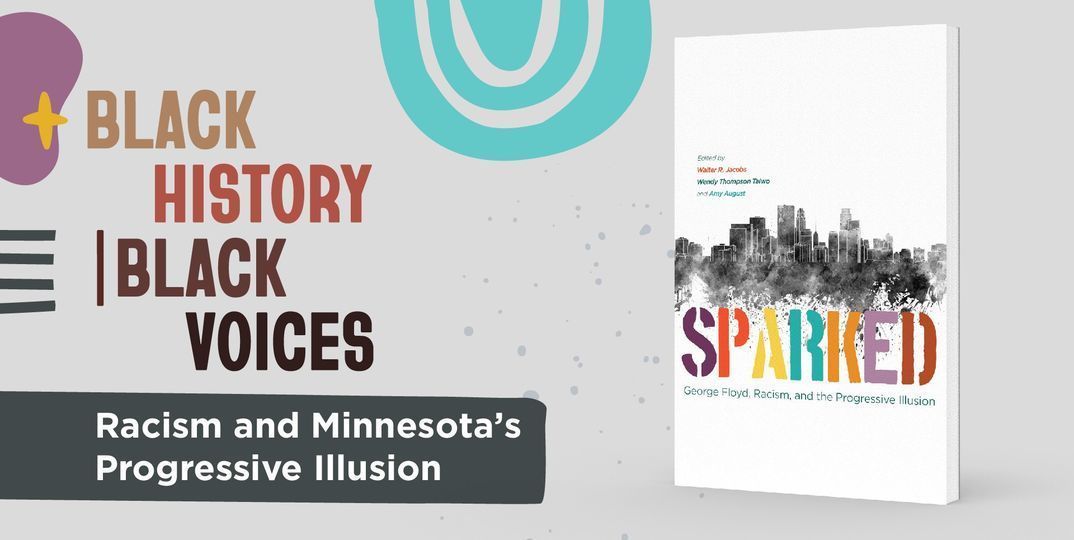 On Wednesday, May 19, 2021 (7:00 pm – 8:00 pm CT), Minnesota Historical Society Press will host a virtual book launch for its latest release, Sparked: George Floyd, Racism, and the Progressive Illusion (available May 18 wherever books are sold). Edited by San Jose State University professors Walter R. Jacobs, Wendy Thompson Taiwo, and Amy August – all of whom have extensive research and teaching experience in Minnesota –  Sparked is a collection of 36 essays "that reflect on racial dynamics in the Twin Cities and the intersection of the wonderful and wretched sides of that existence." In the preface to Sparked, Professor Jacobs writes:
"Our hope is that this volume will spark conversations among friends and family about race, racism, and racial inequality in Minnesota and beyond… (and) help us confront the causes of anti-Blackness, racial inequality, and systematic violence and expand anti-racist efforts to create a more just, equitable, and democratic society." 
To participate in this free Facebook Live event on May 19, which is part of the Minnesota Historical Society's new initiative Black History, Black Voices, please visit the MNHS event page at https://www.mnhs.org/event/8618. For those unable to view the live stream that evening, the event will be archived on the MNHS website as well is its official Facebook and YouTube pages.
About MN Historical Society's Black History, Black Voices
Black History, Black Voices seeks to deepen understanding of Black history and the contributions Black Americans have made to Minnesota. This initiative centers Black narratives, history, and issues through ongoing programs, content, and resources created by members of Minnesota's Black community. For more information on Black History, Black Voices, including upcoming events, past events, and related resources, visit the following link https://www.mnhs.org/blackhistory-blackvoices.