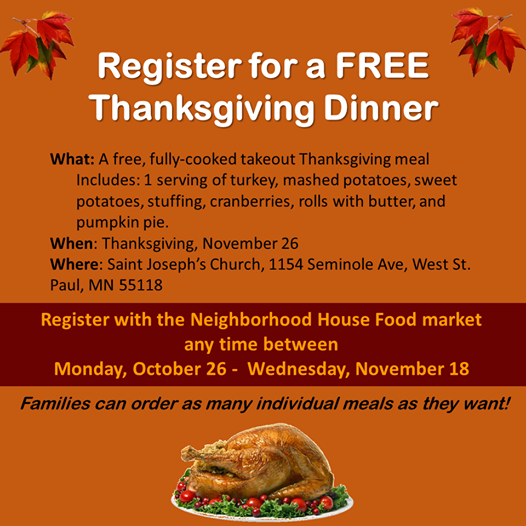 Tomorrow is the final day to pre-order free Thanksgiving meals from Neighborhood House. Each Thanksgiving dinner ordered is already fully-cooked and includes one serving of turkey, mashed potatoes, sweet potatoes, stuffing, cranberries, rolls with butter, and a slice of pumpkin pie. Households can order as many meals as they need to feed their family.
To order, please call the Neighborhood House Food Market at 651-789-2534, no later than 4:00 pm tomorrow (Wednesday, November 18).  This phone line will be staffed from 10:00 am to 12:00 noon and 2:00 pm to 4:00 pm, both today and tomorrow. If the line is busy or you call during off-hours, please leave a message and someone from Neighborhood House Food Market will call back to complete your pre-order. But please, make sure you call by 4:00 pm Wednesday at the latest.                                        
Those who order in advance with Neighborhood House, will be able to pick up their free Thanksgiving dinners on Thanksgiving Day (November 26) at Saint Joseph's Church in West St. Paul (1154 Seminole Avenue). Complete details will be provided when you set up your order with Neighborhood House.